About Gangchon Rail Park
Editor's Note: This post was originally published in October 2018 and has been updated in December 2018 for accuracy and comprehensiveness.
Running out of ideas what to do in Seoul? Hop on to a rail bike and ride on. There are two places near Seoul where you can experience this fun activity–Gapyeong and Gangchon Rail Park. Here's a post mainly about Gangchon Rail Park.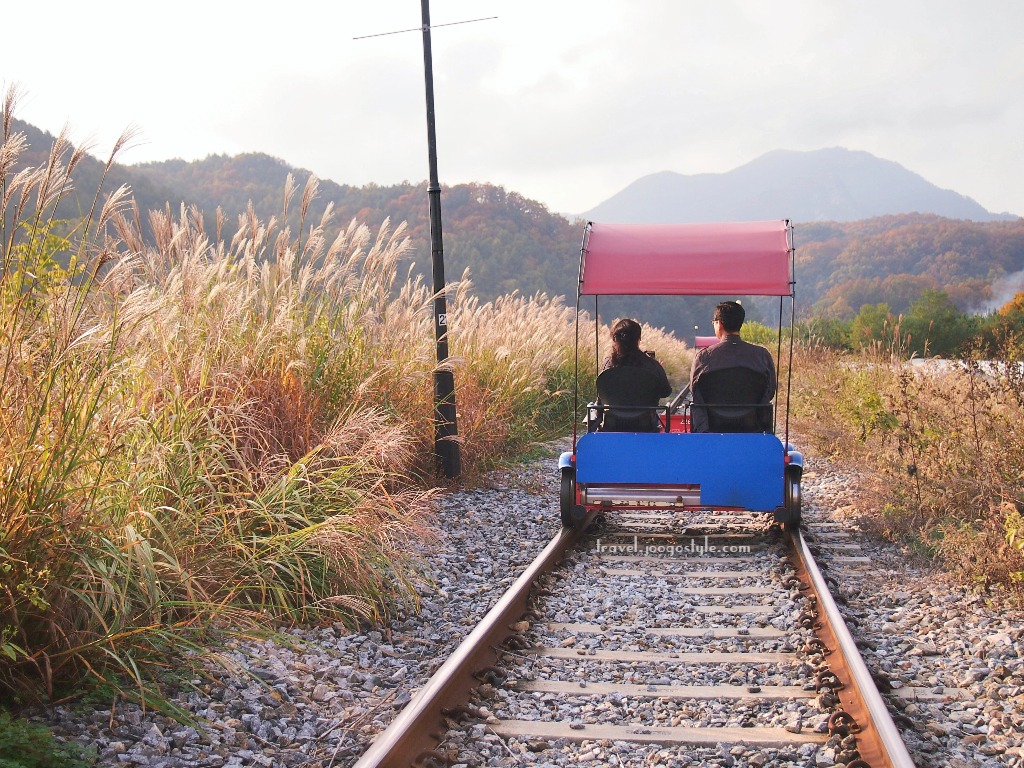 ---
Gapyeong or 

Gangchon 

Rail Park?
---
Gapyeong Rail Park is nearer to Seoul and if you are going to Nami Island, it is more convenient with the City Tour Bus. You can book the bike tickets of Gapyeong Rail Park via Trazy .
Even though we are going to Nami Island before this, we decided on Gangchon Rail Park instead. Reasons being: 'Running Man' was filmed there (I'm an avid fan!), the scenery is better, four tunnels are being passed through instead of one, less distance to cycle as the last part is a scenic train ride, and lastly, there's an option for VR experience!
About Gangchon Rail Bike
Pedal the bike along discontinued railroad tracks and enjoy the Bukhangang River scenery. Pedalling makes the bike go faster, but you can only go as far as the bike is in front of you, unless of course you are the first one. If you are tired, rest your legs and allow your partners to do the hard work, or let the bike go slow on auto pilot. In any case, the bike is going on a slight down slope.
Begin your rail bike experience from Gimyujeong Station. Ride 6km to a pit stop and rest for 20 mins. Afterwards, enjoy the scenic train ride to the Old Gangchon Station (end point). You can take the free shuttle bus at the parking lot of Old Gangchon Station and return to Gimyujeong Station (the starting point).
It's best to set aside 2 hours for this activity. The whole experience, including the train ride and shuttle bus transfer, takes about 1.5 hours. You might want to add another 30 minutes for buffer in your schedule.
---
How to get to Gangchon Rail Bike Park?
---
Gangchon Rail Bike Park is a 5-minute walk from Gimyujeong subway station.
From Seoul
By train, there are two ways to travel from Seoul to Gangchon Bike Park (Gimyujeong station).
Option 1: Subway all the way (alight at Gimyujeong station)
Option 2*: Subway + ITX-Cheongchun Line + Subway

Take subway to the ITX station
Alight from ITX at Namchuncheon Station
Take a subway to Gimyujeong Station
ITX is a high speed train that supposedly shortens the travelling time. Certain websites recommend not to take ITX because many passengers missed their train, waited 30 minutes for the next one and ended up late for this booked activity. According to them, not much time is saved with ITX anyway.
*Option 2 is similar to how we get from Seoul to Nami Island. So for ITX details, you can refer to Step 1 and 2 of the post, "From Seoul to Nami Island". Advisable to book ITX tickets online in advance.
From Nami Island
After alighting from the ferry at Gapyeong wharf, take the intra-city bus (green bus) or cab back to Gapyeong Station. And from Gapyeong Station, take a subway to Gimyujeong Station. 
---
Leaving Gangchon Rail Park
---
Option 1: Shuttle Bus to Gimyujeong Station
As I've mentioned, you can take the free shuttle bus at Old Gangchon Station, the end point. After you alighted from the train station, you need to walk to a parking lot. You can refer to the map below for reference.
From the train, walk towards a (car road) bridge and turn left unto it. At the bridge, there's the map (photo below) to locate the shuttle bus stop. Follow the yellow arrows to the shuttle bus. The bus will bring you back to Gimyujeong Station, the entrance of the Rail Park.
We took the subway from Gimyujeong to Namchuncheon station for the ITX. We boarded the ITX and alighted at Wangsimni, where we took the subway (green line 2) to EWHA.
You can use these websites to help you plan your route: www.seoulmetro.co.kr/en/cyberStation.do; www.letskorail.com/ebizbf/EbizBfTicketSearch.do

Option 2: Walk / Cab to Gangchon Station
You can leave straight from the end point and not take the free shuttle bus. In this case, you can either walk or take a taxi to Gangchon subway station. Walk 1.5 km for about 20 mins. Otherwise, take a 5-minute ride on taxi for ₩3,000 (S$3.70, US$2.70).
---
Booking Gangchon Rail Park Bike Tickets
---
Because of the popularity and limited quantity of the two seater bikes, it's better to book your Gangchon Rail Park tickets soon! Moreover, book early for your desired timing. There are specific timings you have to choose from.
Booking of Gangchon Rail Bike Tickets (2-Seater or 4-Seater):
Children under 36 months may sit on the lap of a paying adult for free. However, insurance doesn't cover that child.
If you are also going to Nami Island, consider booking a fuss free tour package via Klook that includes both Gangchon Rail Bike and Nami Island. Have fun cycling!
Read about my experience and review in the post "Gangchon Rail Bike Review (Autumn)".
---
Disclosure: Some of the links in this post are affiliate links. Affiliate link means I'll get a small commission if you make a purchase. There's NO extra cost to you. I appreciate your support to maintain this website, so that I can share more tips with you. Thank you!
---
---