Guide to Driving in Jeju: Lotte Rent-A-Car and GPS phone numbers
Update: 22 Dec 22
Jeju's intercity bus system has improved since I was there ten years ago. Still, taking a bus is inconvenient — waiting time is long and bus stops are sparsely located around the island. Hence, driving in Jeju is a popular option for tourists to the island, especially those with children like us, or those in a big travel party. It's easy to rent and drive around Jeju anyway. You'll see, most cars will be relatively slow because the drivers are foreigners as well. Hopefully, this guide to driving in Jeju will be useful for you!
Jump to Your Preferred Section:
---
Renting a Car in Jeju
---
Requirements for Car Rental in Jeju
Before you decide to rent a car in Jeju, it's important you have certain documents and requirements. They are generally required by car rental companies for foreigners, and the following is explicitly stated in Lotte's email to us.
Requirements for car rental in Jeju:
Driver must be at least 21 years old
International Driving Permit
Driver's Passport
Credit Card under driver/renter's name

If you paid online, remember to bring along the credit card used for payment.
Debit cards and cash are not accepted.

Address (temporary place of residence) and contact number when signing the rental lease agreement at the pick-up branch.
International Driving Permit
You are required to present International Driving Permit ("IDP") when you pick up your car. For holders from the United States of America, only a permit issued by The American Automobile Association ("AAA") is accepted.
In Singapore, you can only apply for IDP through the Automobile Association of Singapore ("AAS").
Apply online on AAS website.
If urgent, head down to AAS branches (Kallang Bahru and Ang Mo Kio) for walk-in applications and collect IDP on the spot within 1 hour.
Car Rental Companies in Jeju
Based on online reviews, our choices came down to Lotte Rent-a-car and AJ Rent-a-car. We went with Lotte in the end. Although Lotte is more expensive, it seems more established and has more positive reviews than AJ.
Tip #1: For most car rental companies in Korea, like Lotte and AJ, signed up for their free membership online to enjoy discounted rates. To get Lotte's member discount, you can register for free on their website. Or if you have a Krisflyer membership, you might want to consider Hertz.
Tip #2: Book online to reserve a car and get better rates. This is especially true during peak periods when you might not even get a car over the counter.
---
Lotte Rent-A-Car
---
Renting from Lotte Rent-A-Car
We reckoned we would be deadbeat after a red-eye flight from Singapore to Seoul, followed by a connecting flight to Jeju. Hence, we thought it was best to take Jeju Airport Limousine 600 ("#600") from Jeju airport to Seogwipo, where our Airbnb was, and then rent a car the next day.
#600 bus is at Gate 5, you can pay by cash or T-Money Card. The bus fare ranges from ₩1,300 to ₩5,500, depending on your alighting stop. The bus comes every 18-20 minutes, with the first bus leaving the airport at 6:20 am and the last bus at 10:00 pm. For more information on Jeju Airport Limousine 600, you can refer to Jeju Weekly, ISFNT, and Jeju Tourism.
However, Lotte's branch at Seogwipo is not near our Airbnb. So, we aborted the plan and hubby had to fight his tiredness to drive us from one end of the island to the other, Seogwipo.
After we touched down at Jeju island, we took Lotte's complimentary bus from Jeju airport to Jeju Auto House (the branch near the airport). It's a two-way bus, and the ride was about 10 minutes. If you're not sure where to hop on this bus, head to Lotte's rental counter next to Gate 2 and 3 and ask.
Jeju Auto House; Mon – Sun / 08:00AM – 10:00PM
Jeju Lotte Hotel: Mon – Sun / 09:00AM – 6:00PM
Choose either branch to pick up your car during opening hours. There is no car delivery service.
Our Car Rental Reservation:
Car Type: Hyundai LF SONATA (G)
Pickup and Return Location: Jeju branch
Rental Period: ~3 Days
Pickup and Return Timing: 18 October 2018 (14:30); 22 October 2018 (10:00)
Fare Information (car rental including car seat):

Approx Total (during reservation): ₩274,400 (S$335)
Actual Total: ₩269,400 (S$329)
Tip: A reader highlighted to me that payment doesn't go through on mobile phones but only on desktops.
Review of Lotte Rent-A-Car
The pickup was fuss-free. I guess, since it is common to rent a car to explore the island, the car rental staff are experienced in dealing with non-locals. Anyway, we got a queue number, settled the admin stuff at the counter, and followed the staff to the car. He showed us how to use the car seat and pointed out some important car mechanisms. The car and car seats were in good condition and felt new. There's even a sunshade provided for the baby (photo above).
The car didn't give us problems throughout the ride and it was easy to drive. There was a mini accident that left some minor scratches, however, it was covered by the insurance. The car insurance was so comprehensive that there were no checks performed before and after we rented the car. The car insurance was included in the rental fee of KRW274,400 (online quotation) and did not pay additional charges when we were in Korea.
---
Our Experience Driving in Jeju
---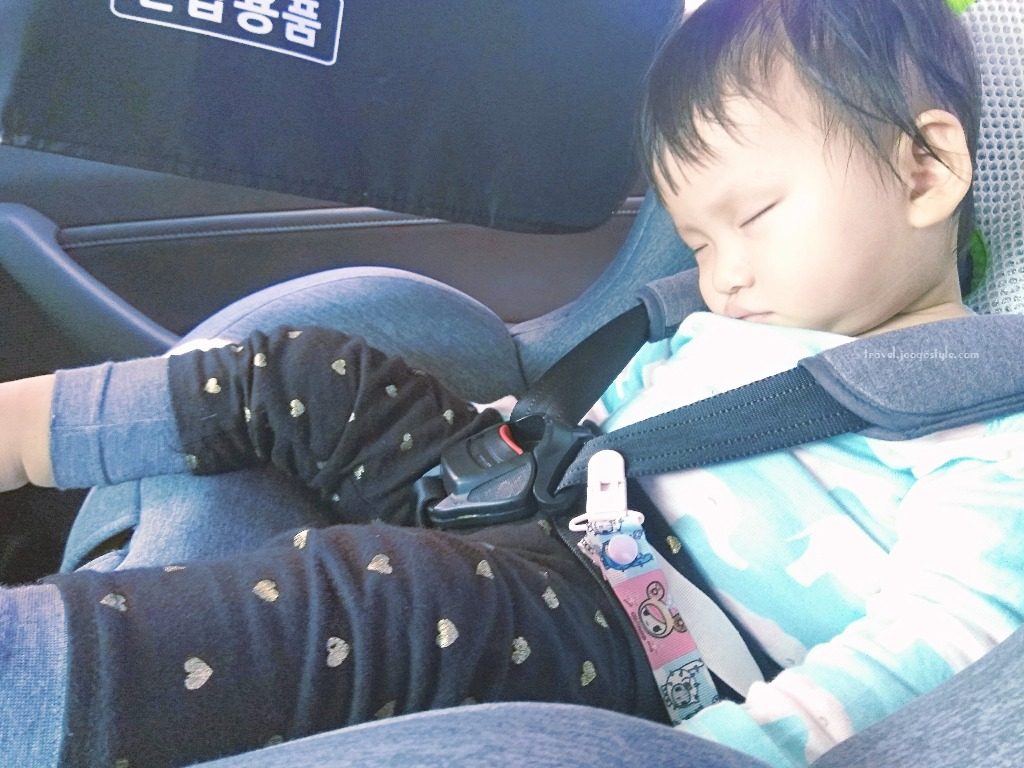 For left-hand drive folks, there might be a tendency to drive too far left, so be careful! Nevertheless, driving was a breeze in Jeju. Many drivers were foreigners unfamiliar with the roads, so they were also driving slowly to find their way. But don't worry about losing your way too much, all rental cars are equipped with GPS devices.
It's important to note that in Korea, the GPS device uses telephone numbers of the destination instead of the address. Sure you can input the attraction name, but it might not bring you to the specific entrance or worse, to some other similar name location. Phone numbers are like coordinates or postal codes to pinpoint your destination more accurately than addresses.
Hence, to save time on the road, planning in advance helps! Because who would easily know the phone number of a waterfall?
---
Jeju's List of GPS Phone Numbers
---
To save you even more time, refer to my list of GPS phone numbers of Jeju attractions. Please let me know if there is any error or new update so I can keep the list updated. You can leave a comment below. It will definitely help other travellers!
Useful Navigation APPs
To test out the GPS phone numbers and see if they're really bringing you where you want to go, you can download "KakaoMap" APP to try them out and plan your route. If you are taking public transportation in Seoul, this and "KakaoMetro" APP can help you to navigate as well. Or you can use the desktop version: map.kakao.com
You'll realise that Google maps or Apple maps don't help much if you are driving around Jeju. Yes, you can see where all the landmarks, but you wouldn't find the driving route.
Places of Attraction in Jeju
In my list, I will omit the first four digits of the phone numbers, +82-64-xxx-xxxx, because you just need to key in the last 7 digits into your GPS.
In alphabetical order,
Airport (Jeju International Airport): 797-2525
AJ Rent A Car: 726-3322
Best Western Jeju Hotel: 797-6000
Cheonjeyeon Falls (천제연 폭포): 760-6331 / 738-1529
Cheonjiyeon Falls (정방폭포): 733-1528 (ticketing office); 760-6331 (actual location)
Daepo Jusangjeolli Cliff (주상절리대(대포동지삿개)): 738-1521
Gwandeokjeong Pavilion (관덕정(제주)): 710-6717
Hallasan National Park (Eorimok Trail): 713-9950
Innisfree Jeju House: 794-5351
Jeongbang Falls (정방폭포): 733-1530
Lotte Rent-a-car: 751-8000
Love Land: 712-6988
National Museum of Jeju: 720-8000
Ocean Palace Hotel: 730-5800
O'Sulloc Tea Museum: 794-5312
Oedolgae Rock (외돌개(제주)): 732-8027
Seongsan Ilchulbong (성산일출봉): 710-7923
Seopjikoji (섭지코지): 784-2810
Songaksan Mountain (송악산): 794-7711 (starting point); 760-2655 (actual mountain)
Stone Culture Park: 710-7731
Udo Island (Ferry from Seongsan Port): 782-5671
Eating Places of Jeju
In my list, I will omit the first four digits of the phone numbers, +82-64-xxx-xxxx, because you just need to key in the last 7 digits into your GPS.
If you want to know what I think of the food, refer to "What to Eat in Jeju | 21 Food Choices".
Coffee and Bread
소보리당로 222 (Cafe/Coffee): 010-3832-7896 (last 8 digits)
A Factory Bakery (Bread): 720-8223
Sister Field (시스터필드) (Bread/Organic): 739-2225
Traditional Markets
Dongmun Traditional Market: 752-3001
Seogwipo Maeil Olle Market (서귀포매일 올레시장): 762-1949
(Modern) Lotte Mart Jeju: 798-2500
Black Pork BBQ
Black Pork Street: 753-0008
Donsadon (돈사돈) (Very nice!): 747-7876
Neulbom Heukdwaeji: 744-9001
Ppolsal House (뽈살집): 763-6860
Restaurants/Eateries
Guksu Bada, Jungmun (국수바다)) (面的海洋) : 739-9255
Myeong Jin Jeon Bok 명진전복 (Abalone Porridge): 782-9944
Negeori Restaurant, Seogwipo Jeju (네거리식당): 762-5513
Seabong Kitchen: 763-8460
UDO: Pungwon (풍원) (Famous Hallasan Fried Rice): 784-1894
Bookmark this page or pin this to your Pinterest:
For more Korea travel tips, refer to our itinerary for our South Korea trip (Jeju and Seoul).
---
---