5 Food to Eat in Nagasaki
With a baby, there are more considerations in choosing a place to eat. Food can be good, but baby doesn't have the patience for very long queues. And cramp restaurant meant space is hard to come by for baby chair. Nevertheless, it was not crowded when we went Kyushu during winter. Hence, even restaurants with good reviews were relatively empty. So what food did we eat in Nagasaki?
Nagasaki City is not very cbig, and so there are not many popular oiishi food options. Even the famous Nagasaki Sasebo Burger was not found in the city but somewhere else in the prefecture. Was considering a detour to try it, but it was quite a drive away from our road trip route. With a baby, it's just not feasible.
Read on to find out which one is the most memorable for us in Nagasaki City. :)
---
1) Delicious Restaurant Attic (Italian + Cappuccino)
---
I squinted behind the sunglasses. The boats docking at Nagasaki Harbor reminded me of Australia. Cold air lingered and the piercing bright sun rays did not melt away its coldness. It was cumbersome to eat my spaghetti with gloved hands, but once I reluctantly took the gloves off, my fingers became too numbed to move the fork with ease. Thinking it was a cooling sunny weather, we decided to have alfresco dining at Dejima Wharf. The idea turned out to be romantic, but not comfortable for me.
We were still full from the plane food and hence shared one spaghetti dish (950Yen, S$12) and a cake set (780Yen, S$9.70) from Delicious Attic Restaurant ("Attic"). Our pasta, "Source Japanese Style Pasta Bacon, Mushroom, Tuna", was quite delicious and the sauce interesting. The Earl Grey Lavender cake for the cake set was quite memorable, having a unique taste in a good way, and the aroma of Earl Grey was especially noticeable.
The restaurant generally has good reviews, but what brings people here is their coffee. After all, Attic is a coffee specialty shop, with Ryoma Cappuccino being a popular choice. Of course we ordered and the coffee art is amazing! A superb Instagram opportunity. The coffee, according to my hubby who drank it, was nice, but without the wow factor.
I was trying to find out why this is called Ryoma Cappuccino and came across this explanation on a TripAdvisor review, "…those cafe mocha and cappuccino with the faces of Sakamoto Ryoma (political figure from the past) and Iwasaki Yataro (founder of Mitsubishi)…" I googled and realised the Ryoma man on our coffee looks like the photo of him on Wikipedia!
In total, we spent a total of 1398Yen (S$17.20), because we utilised a JCB card promotion valid. If not, Attic also offers value for money lunch sets.
Useful Information
Address: 1-1 Nagasaki Dejima Wharf, Nagasaki prefecture, Nagasaki shi Ichijimacho (1F Art Museum side, it's on one end, 2 mins walk from Dejima Terminal)
Tel: 095-820-2366
Hours: Mon-Fri 11:00AM – 11:00PM, Lunch till 5:00PM, Weekends/Holidays till 11:30PM
Website: attic-coffee.com/attic
---
2) Kaisen Ichiba Nagasakiko (Fresh Seafood Don & Fried Chicken)
---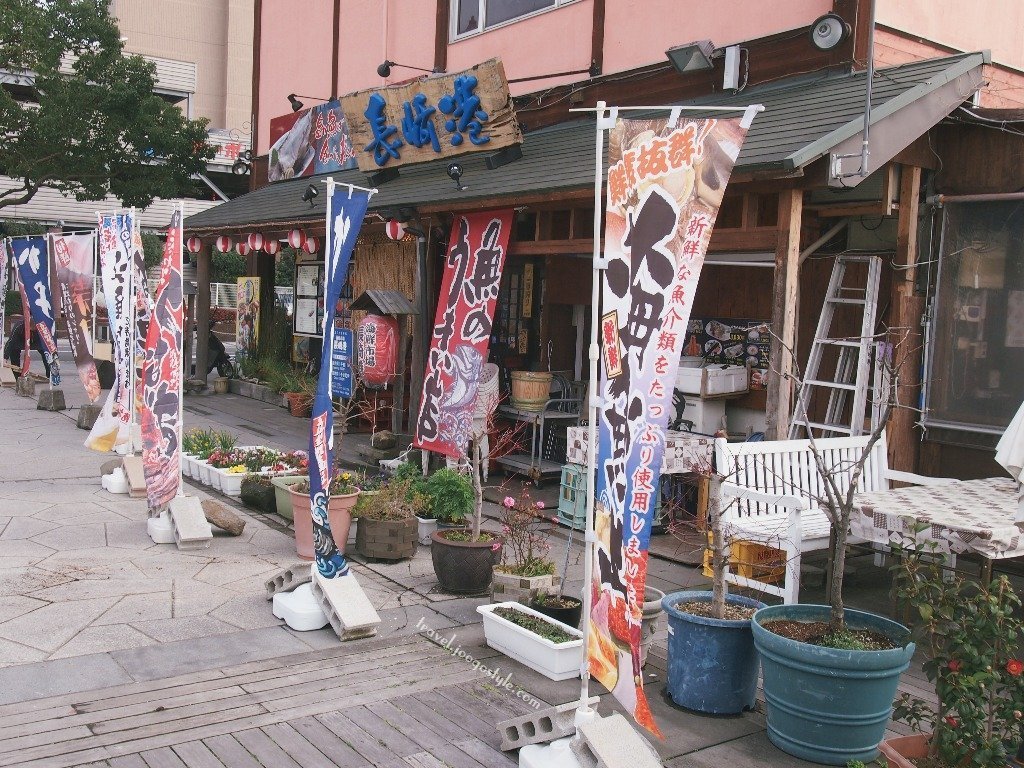 On one end of Nagasaki Dejima Wharf is Delicious Restaurant Attic, and on the other end is Kaisen Ichiba Nagasakiko ("Kaisen"). Based on online reviews, Kaisen is a highly raved restaurant. Entering the restaurant, we went around a privacy door shield, and found ourselves in a spacious restaurant.
On one side of the restaurant, we could see a large pool of live fishes and other aquatic creatures. Fresh seafood bowl, anyone? Apparently, Kaisen offers ika-no-ikizukuri (Live Squid Sashimi). Squid is taken fresh out of water and sliced up live, giving off a sweet taste when you bite into its translucent meat. This delicacy is a specialty of nearby Yobuko (Kyushu).
Since I am not a fan of sashimi, only hubby ordered a fresh seafood donburi (Japanese rice bowls), JPY1,830 (S$22.50). He chose the assorted bowl that has the greatest variety. It was a pity he didn't have the mood for seafood when we went to Kaisen.
So we're not sure if this was the reason that he didn't quite enjoy it. It was nice, but not fantastic. He thinks the one in Hokkaido, specifically Otaru, is still better. Or probably the expectations were higher this time round and hence the disappointment.
Uni in Japan never fails, so you might want to order it as a side dish and eat to your heart's content. Or you could order Unagi (eel) which is supposedly more well known in Kyushu than Hokkaido. However, you might instead want to try it at Izumiya, an unagi restaurant that's more than a century old and also found in Nagasaki. Read on about it.
As for myself, there weren't much I could eat – since raw stuff is not a thing for me. So I ordered a very cooked food, fried chicken! Compared to other dishes, this came as a steal. The fried chicken set costs JPY960 (S$11.80). In the end, hubby prefers this over his seafood bowl!
Useful Information
Address: 1-1 Dejimamachi | Dejima Wharf 1F, Nagasaki 850-0862, Nagasaki Prefecture (Dejima Station)
Tel: +81 095-823-1550
Hours: Mon-Sun 11:00AM – 2:00PM, 5:00PM – 10:00PM
Website: nagasakikou.com
---
3)
Izumiya, 泉屋 (
Unagi, Freshwater Eel)
---
Izumiya, 泉屋 which sells freshwater eel is not popular with tourists. You can't find information about it on English websites like TripAdvisor, and reviews are in Japanese on tablelog.com. Google search and you will find a few English reviews on Google reviews, with the general rating at 3.5 stars.
Hence was not expecting anything great with the review. We went anyway because I love Unagi and we could hardly find any other places we wanted to try in Nagasaki. In fact, Izumiya seemed good in the review at willflyforfood.net. Yeap, this blog introduced this interesting place to us!
This place is hidden real deep in the side alleys of Nagasaki Chinatown. It is one of those mysterious looking shops that most foreigners would not just walk in, or easily stumble upon.
So, how to get to Izumiya?
Tram to Shiambashi Station and walk along the main shopping arcade. Spot the shop in top left of the collage. Turn right into the first alley you see. You will see a small square signage (bottom). Then slide the wooden door (top right) and you will be greeted by a pond of freshwater eels!
The Restaurant
It's a cosy place ran by an elderly couple and few young men. It was winter and so there's a heater running in the middle of the restaurant, and a kettle was on top of it. The elderly woman suggested we take the tatami seating because they have no baby chair for our 8 month old baby. Evangeline had so much fun crawling or rather sliding on the mat!
Looking at the lack of English reviews, I doubt they expect many tourists too. Hence, Izumiya doesn't have an English menu. It was still relatively easy to choose from the Japanese menu, with three Unagi set options: regular, premium and super premium.
And since we were quite full from our hotel breakfast, we ordered only one set to share. Since it's only one unagi set, we went for the most expensive one at JPY3,200 (S$39.30). The peeps at willflyforfood.net ordered the premium unagi set at JPY2,900 (S$35.70)
Verdict?
DELICIOUS. The eel was cooked at about just right to have that burnt charcoal taste without feeling it's actually burnt or overcooked. It was so tantalising that we wished we had ordered two sets! We were fighting over the precious six pieces. The miso soup is also cooked with eel.
This place is such a precious find! Perhaps the Japanese could find better Unagi restaurants, but to us who have never tried such cooking method for eel, it was thumbs up! And for Izumiya to survive for 160 years, the food must be of certain standard.
Useful Information
Address: (Chinatown area) 8-25 Hamamachi, Nagasaki-shi, Nagasaki-ken 850-0853, Japan (Shiambashi Station)
Tel: +81 95-822-0333
Hours: Mon-Sun 11:00AM – 9:30PM, (however it closes early when we were there about 8pm, during winter, so try to be early or go for lunch!)
Website: nagasakikou.com
---
4) Ringer Hut (Nagasaki Champon)
---
Dining at Ringer Hut was a last minute decision during our road trip. Find out more about our story in "Self-Drive in Japan: Kyushu Road Trip" post. Basically, I couldn't get to try Nagasaki Champon while in Nagasaki. So it was a good thing we ate it at Ringer Hut, which is a chain restaurant that specialises in Nagasaki dishes Champon and Sara udon.
The dishes came and at first look, I was disappointed. There was too much vegetables for my liking. One mouth, and I knew this dish wasn't for me. I tried to finish half a bowl and passed it to hubby. Moreover, being a fast food outlet with no frills, there's no baby chair. So we had to take turns to carry baby Evangeline while feeding her. The eatery was a bit warm too.
The whole experience didn't turn out to be good for me. At least the Gyoza side dish tasted not bad and I could say I've tried Nagasaki Champon!
Useful Information
Address: Various locations, you can also find it worldwide, such as in Bangkok, Taiwan and Hawaii.
---
5) Shooken (Castella, Sponge Cake)
---
Castella (カステラ Kasutera) is a moist sponge cake that many Singaporeans will find familiar. Recently it has been made popular with Castella shops from Taiwan and Malaysia coming into Singapore. To think, Castella is a specialty of Nagasaki. According to Wikipedia, the cake was brought to Japan by Portuguese merchants in the 16th century. It is usually sold in long boxes, with the cake about 27 cm long.
We were on a narrow path, walking to Glover Garden and Oura Church, when we noticed many people entering into this small shop. Later I found out it's Nagasaki Shooken, which was started in 1681, during Edo era. Shooken sells Castella cakes in three flavours: Original (Shooken), Matcha and Chocolate.
Along the streets at the foothill of Oura Catholic Church and Glover Garden, you will find many stores selling Castella. There's another chain Castella store called Izumiya, which has the same name as the Unagi restaurant I mentioned above.
Useful Information
Address: They have 9 outlets. The one went to is Shooken Oura Shop, near to Oura Church. 2-40, Matsugae, Nagasaki city.
Tel: +81-95-828-0835
Hours: 9:20AM – 6:00PM 7days a week
---
---