Hair Salon in Seoul for Foreigners: English Speaking [Sponsored by Trazy]
When overseas, I like visiting hair salons to try out the local trends. Did it in Hong Kong but ended up with an epic fail boy's cut. Also did it in Taiwan and cringed at the frizzy limp perm, and on hindsight I think the Taiwan stylist was peeping under my clothes, a story for another day. So why do I still want to venture overseas? I just couldn't help it this time. It's Seoul.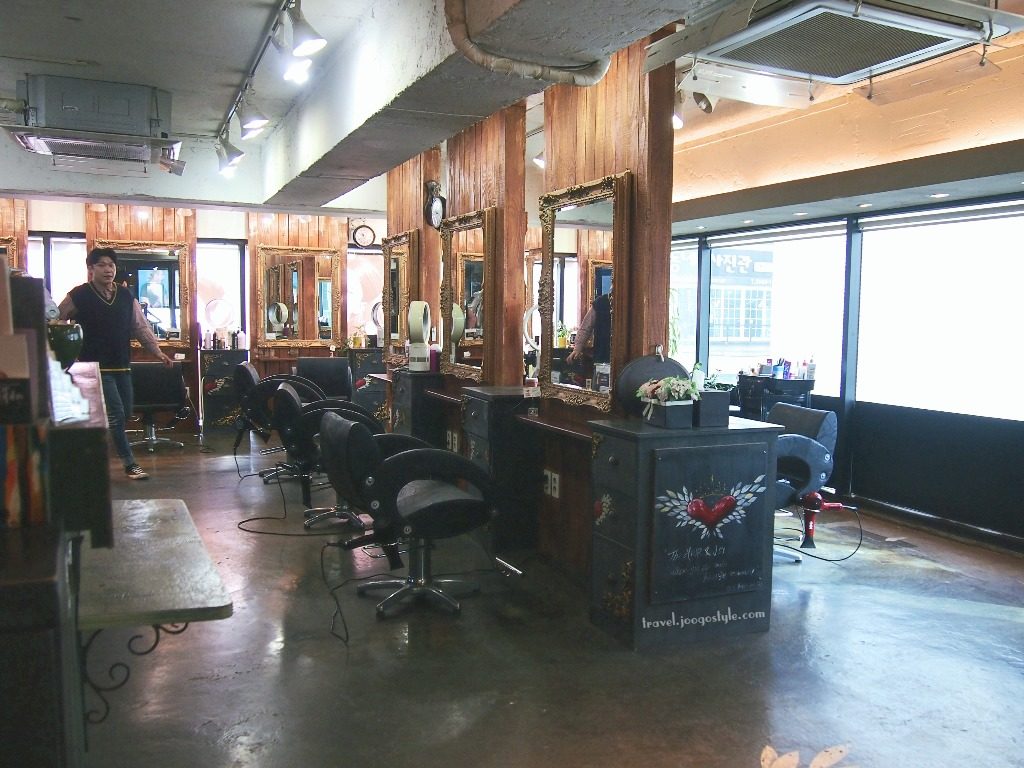 With K-beauty in the vogue and Korean hair salons sprouting up in Singapore, shouldn't I be styling my hair at where all these originated from? I wanted an authentic Korean hair salon experience. And it's a plus that Trazy.com ("Trazy") is sponsoring this experience at a Seoul Hair Salon in Hongdae (Hair & Joy).
Trazy is a travel booking site where you can find tonnes of activities in South Korea ("Korea") and Thailand — from day tours to concert tickets to manicure. Get inspired of what to do in Korea, especially uncommon tourist experience like cooking! :) Oh and booking through Trazy website will save you the hassle of overcoming the language barrier and making overseas calls. Almost all Korean establishments we encountered only have phone numbers listed for reservations. 
---
My Experience
---
Finding My Way
I meandered through a narrow obscure shortcut to go over to the other street. Making my way from Hongik University subway stop, I had made a wrong small turn at an ambiguous crossroad. "It should be right this time," I thought to myself, "Uniqlo is over there and the hair salon is opposite. But why can't I spot it?"
Turned out, I was looking out for the wrong thing. I was expecting the usual wide glass paneled hair salon, but its entrance was actually obscure. The easy-to-miss indication that I had found the salon was a thin and long sign of Hair and Joy. I would have unlikely been a walk in customer.
As I carefully climbed my way up instead of taking the lift, a young Korean guy ran past me. Turned out, he was also heading to Hair & Joy for a haircut. Must be urgent, rushing to a hair salon at 10:45 AM.
My Hairstylist and The Salon
There was only a guy at the reception counter to greet me–no hairstylist spotted. Oh the young guy who ran past me was the only one seated in one of the swiveling chairs. And phew, the salon does not look shabby or dubious, unlike the first impression I formed from its shady entrance.
Anyway, Jake (IG: @k.j.g.wow) was assigned to me. I supposed it's because his command of English is better than the rest. And since his assistant was sick that day, another hairstylist (@cheonbae_lim) came to help him out. Wouldn't have this luxury of attention if the salon was crowded. So it's best to come during off peak. You also wouldn't want your hair session to be prolonged with him attending to many others. Certain nights are busy, and needless to say, weekend is the super peak period.
More people started to stream in after 12:00PM. See the photo below (pardon the ahjumma me) as I referenced how Hair & Joy's client profile is quite diverse. While I was there, a Korea Ajusshi (man between 40 to 60s), and two foreigners, one with golden locks and another with straight black hair, were all getting their hair done. The black hair lady is a German, I deduced from the overheard conversation.
According to Jake, many Singaporeans come to Hair & Joy too. He also mentioned about university students and professors who came by for hair cut. Not surprising, considering Hair & Joy is near Hongik University.
By the way, I probed and found out that Jake was born in 1992. He has 5 years of experience, 2 years at a salon in Gangnam and 3 years here at Hair & Joy. He shared that he had to learn from scratch when he came over to Hair & Joy. Reason being, there are many more foreigners (non-Asians) and the way to handle those hair is different.
The Process
Jake's English is not perfect but good enough to communicate. I think that is why he would reiterate and explain the steps he would take – wash, cut, test perm and then perm. After understanding my needs aka my desired hairstyle of digital perm on short hair, he counter suggested doing a mixed perm, that is digital at the ends, straightener at the roots. It's best to show him a photo of what you are looking to achieve, which I did.
I changed my hairstyle almost every semester in uni, and yet I had not attempted a perm on short hair prior to this. A "dangerous" hairstyle because one wrong turn and I could become an ahjumma. I was praying my hair would turn out awesome!
Nearing the end, he taught me how to maintain my curls — not to wear cap or tie my hair for the first week, no shampoo for next two days, and how to blow my hair. Blow if I want soft curls, leave hair to dry if I want more defined curls. And he gave me tips on how to twirl my hair while blowing hair and always blow downwards.
It's actually quite hard to know the direction to twirl when looking from the mirror. I politely pretended to know until he thrust the hair dryer into my hands. I was stunned for a moment until he signalled me to blow my hair. He wanted to see if I was doing it right and corrected me on the spot. Although it was embarrassing for me, it was a good thing. At least now I know how to do it right.
All in all, it took about 3.5 hours for my hair to be done.
The Hospitality
Some notable mentions include having a locker for my bag, and a drinks menu to choose from. Drink was served with biscuits too. It was a lifesaver because my perm cross over lunch time! Then as he passed me magazines to read, he placed a cushion on my lap so that I wouldn't have to bend too low to read.
Btw, the head massage during the last wash was awesome!
---
The End Result
---
Before: On the Day
Thought I show you my 'Before' look, taken before I headed to the hair salon. I was growing out of my short and slight bob. The hair started to curl upwards when it reached this awkward shoulder length. But note, this hair length is considered long according to guide on Trazy's booking page.
After: On the Day
Then the photo below was taken after the visit to the hair salon. It looks gorgeous because of the angle and lighting. I'm well pleased with the result! Finally an overseas hair styling that I did not regret.
After more than a week
Usually one looks gorgeous from the hairdresser's blow out. So after a week, are the curls still wonderful?
The curls are less defined but still stand out if I let it dry out (instead of blowing). And I have to wet my hair to let the curls appear, like any other digital perms in the world. On hindsight, he did a great job, but I kinda regretted showing him a picture of soft curls. From experience I should know curls will soften in time. Hence if I requested for curls that were more well defined, I would have the bounce in me longer.
In any case, if you are a Singaporean holidaying in Seoul or a non-Asian looking for someone who understands your hair, book a session with Seoul Hair Salon in Hongdae (Hair & Joy). Easy peasy with Trazy!
For more about my travels in Seoul and Jeju, be sure to bookmark my Itinerary of South Korea.
Disclosure:  This activity was sponsored by Trazy, but opinions are of my own. Some of the links in this post are affiliate links. Affiliate link means I'll get a small commission if you make a purchase. There's NO extra cost to you. I appreciate your support to maintain this website, so that I can share more tips with you. Thank you!
---
---