Getting to and around Yilan, Taiwan (Transportation)
Yilan is a favourite weekend getaway spot for people living in Taipei. So consider including Yilan in your itinerary for a change in scenery (aka more greenery). It's a fun place to bring your children to as well! There are many options for getting to and around Yilan.
I will share more about our choices and experiences. Jump to the relevant section:
---
Pin this on Pinterest ;)
No time to read this article? Click on the save button and pin it to read later!
---
From Taipei to Yilan (Bus)
---
My 6-year-old and I took a bus from Taipei to Yilan. The bus journey from Taipei to Yilan is about 1 to 1.5 hours, depending on traffic conditions. Buying tickets in advance is unnecessary because the buses are frequent, departing every twenty minutes.
The two bus companies that can take you from Taipei to Yilan are Kamalan Bus and Capital Star (under Capital Bus).
Kamalan (葛瑪蘭客運)
You can buy Kamalan bus tickets from Klook. The Kamalan bus goes
From Taipei Bus Station (臺北轉運站) to Yilan/Luodong Station; and
From Yilan/Luodong Station to Taipei Station/Main Station (臺北車站).
Capital Star (首都之星)
We didn't opt for Kamalan because we were staying nearer to where the Capital Star bus was departing from – Taipei City Hall Bus Station (市府轉運站). This is different from Taipei Bus Station.
Of the various bus routes of Capital Star Bus, we took the green line – 1570 Luodong Express. It's a straight bus to Luodong with a quick stop at Wujie. Even though the buses are frequent, the buses are full each time because of the summer peak season.
Capital Star at Taipei City Hall Bus Station
We alighted at the Wujie stop because it was right outside our 民宿 minsu accommodation (Star of Bethlehem). Only one other guy alighted at this stop while the rest of the passengers headed to Luodong Station. I think you have to press the bus bell, but best to notify the driver that you are dropping off at Wujie when you board.
You can use Easycard to avoid the queue at the ticket counter, just make sure the card has sufficient funds. Since there wasn't any queue, I got our bus tickets from the ticket counter at Taipei City Hall Bus Station. The bus felt new and the seats were spacious on our trip to Yilan.
Hence, on the way back to Taipei, we decided not to buy my 3-year-old a seat ticket and let her sit on my lap. Alas, the bus back was older and the seats were not as new and spacious. And all the seat belts must be buckled up – so the girls and I had quite an uncomfortable journey. Before the bus ended its journey at Taipei City Hall Bus Station (市府轉運站), it made a quick stop at Taipei 101.
P.s. Not all buses have toilets onboard, so clear your bladder before you board!
Ticket prices: NT131 (US$4.10, S$5.60) for adults, NT66 for those above 65 years old, and children 6 -11 years old. Children below 6 years old or 115 cm in height are free, provided no extra seat is taken.
Alternative: Car Rental
You can also rent a car to drive from Taipei to Yilan, since you need a car to go around Yilan too. The car rental company we used in Yilan has offices in Taipei too.
---
From Taoyuan to Yilan
---
Airport Transfer Car
My husband and our 3-year-old joined us in Taiwan at a later date. They went straight from Taoyuan Airport to Yilan. They could take the airport express to Taipei Main Station and take the bus to Yilan. However, we decided to go ahead with the airport transfer because it's easier with a 3-year-old and arrival time is near her dinner and bedtime.
It turned out to be a good choice because there was a last-minute flight delay that saw them arriving in Taiwan around 3 AM. The plane got delayed twice and my husband reached out to the driver in Taiwan who was very nice about it: 沒事。 倒是你們辛苦啦。 我也是在家等。 (No problem. It's tough on you guys instead. I am waiting at home.)
Tripool / Klook
We booked this airport transfer from Tripool. It's a good option for transportation in Taiwan and it's easy to use. A Tesla picked them up from the airport. The driver was friendly and the customer service was very helpful as well. You can book in English but the invoice is in Chinese. The communication with customer service and driver were also mainly in Mandarin.
So if you prefer English, book airport transfers from Klook. However, at the time of purchase, Tripool quoted us a lower price. We booked a normal sedan with no child seat (we had our own), from Taoyuan Airport to Yilan, for NT$2424 (US$76, S$103.50).
Bus
For a more economical option, you can take Bus 1661 from Taoyuan Airport. The ride is about 3 hours, while route A is 2.5 hours. Buses start from 7:30 AM to 9:30 PM.
Ticket prices: NT300 (US$9.50, S$12.80) for adults, NT150 for those above 65 years old, and children 6 -11 years old. Children below 6 years old or 115 cm in height are free, provided no extra seat is taken.
For more information: www.ubus.com.tw/Booking/StationInquiry/91/
---
Getting Around Yilan (Rental Car)
---
Ge Shang Zhu Che (格上租车) / Car-Plus
According to the locals, having a car is akin to having legs in Yilan. You will be "handicapped" if you don't have a car to bring you around Yilan. This is because public transportation is not so well developed in Yilan.
We rented a car with Ge Shang Zhu Che (格上租车) ("Ge Shang"). We requested a small sized car and Ge Shang gave us:
Car model: 豐田 YARIS (1.5CC).
Car Rental Quotation: There's a 35% for a 6-day rental, so it's NT2,600 x 0.65 x 6 = NT$10,140 (US$317.50, S$433).
Other Fees:

We wanted to add on GPS for NT$50/day, but they advised us to use our phone GPS because we might not be used to their GPS. On goodwill, they lent us a handphone holder to use our phones' Google Maps instead.
You can also add on dashboard camera (行车记录器) for NT$100/day.
You can also rent a car seat, but we didn't because we brought our own portable but safe car seats.
For more information: car-plus.com.tw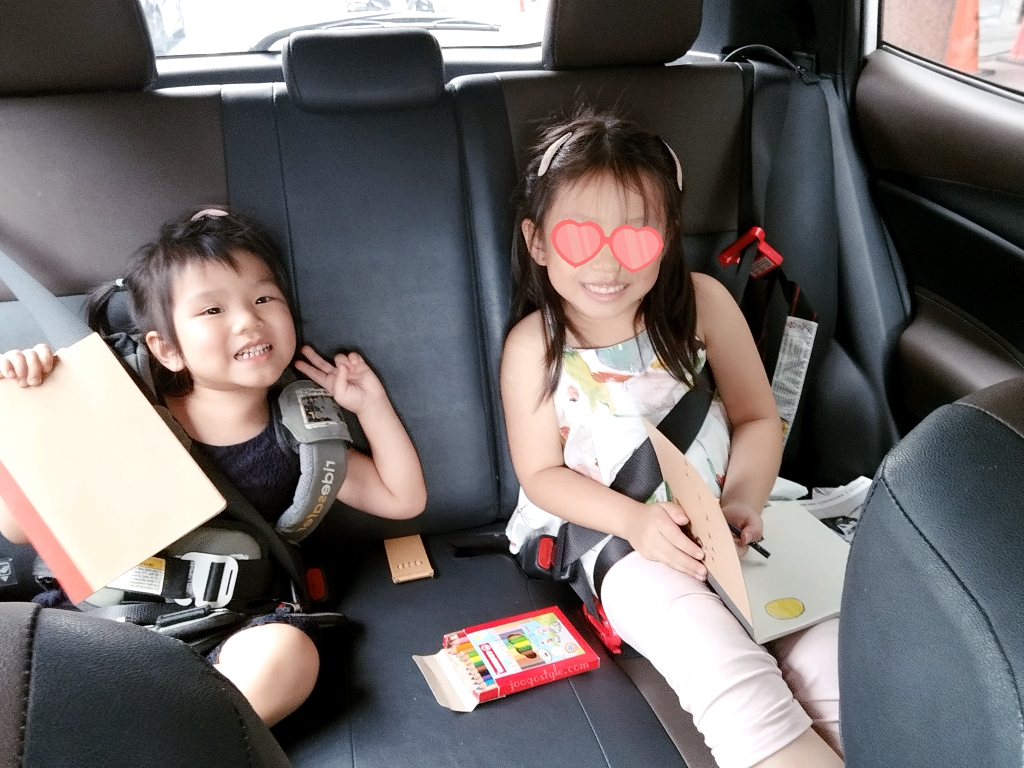 Driving Tips in Yilan
Parking
Cars are usually parked at the side of the road for free. However, if there are no available parking lots, search for paid parking lots. Do not park along the roads with a red line. And if you have a paper stuck on your windshield/windscreen, don't fret! It's not a parking fine like in Singapore, but a slip for you to pay your parking fee at the convenience stores.
Driving Direction
We do get confused when there are no arrows/signs on the road to indicate the driving direction. Usually, the roads turn out to be a two-way street. Some roads look like it's big enough for one car (definitely a one-way in Singapore), but you will be surprised how the cars can squeeze past each other.
Accident in Yilan
Hubby was hesitant when the staff at Ge Shang told us to top up for the excess insurance. However, I've scoured through forums about Getgo rental and realised the importance of excess insurance. So I asked him to get it. And thank God we did!
On our third day of rental, Hubby made a right turn too fast and scrapped the car against a wall meant as a divider (see first photo in the post). We should have turned left, but because he was used to right-hand drive in Singapore… Anyway, to use the excess insurance, we had to make a police report. Is it a waste of police resources? Will the police think we are weird calling them for getting into an accident by ourselves?
The police car came with two officers and we had to follow them to the police station to make a report. It was a delay to our itinerary but quite an experience. The station looks like another home from the outside. Inside, I felt like we were in some 乡土剧 (a form of Taiwan drama).
The captain even asked his subordinates to on the aircon for us and cartoon TV for the girls, saying there were guests. Even asked hubs to buy flowers for me because it's Chinese Valentine's Day. He changed and we exchanged some banter as he made his way out with a bouquet of flowers for his wife.
We didn't pay anything at the end, but the excess insurance can only be claimed once for each rental period. So we bought the excess insurance again for the rest of the trip at another NT$400/day. Thankfully there was no injury and it's only a small loss as we only need to pay again for the insurance.
Whether you self-drive or engage a driver, enjoy the scenery in Yilan!
Before you go, you might want to check out my other posts on Taiwan. Leave your comments or questions below. Love to hear from you. :)
Looking for more tips on travel, home, and baby? Subscribe to my mailing list and be sure to follow me on Instagram, Facebook, and Youtube! If you like what you read here, keep it going with small support too. :)
---
Latest @ Instagram.
---
Disclaimer: JoogoStyle and Christina accept no liability (whether in tort or contract or otherwise) for any loss or damage arising from any use, misuse, inaccuracy or omission of the information or other contents published on this website.
Disclosure: Some of the links in this post are affiliate links. An affiliate link means I'll get a small commission if you make a purchase. There's NO extra cost to you. I appreciate your support in maintaining this website so that I can share more tips with you. Thank you!
---
---