What to Eat at Nami Island, Seoul
The rain poured the moment we stepped foot on Nami Island. Light drizzle was still fine for us, but the sky had other plans. We needed a shelter soon. We were hungry too – didn't have breakfast. Without any research, we didn't know what to eat at Nami Island, nor where to find them.
The rain was getting heavier by the minute. There was no time to explore all the dining options on Nami Island. Moreover, I was carrying a sleeping baby on the front, with a mere nursing cover to shield her from the rain. So we checked out the three menus nearest to us – Seomhyanggi, Nammoon and May Cafe. The wet and cold weather made me craved for some barbecue meat and so Seomhyanggi it was.
---
Seomhyanggi Restaurant
---
This hasty decision to go for Seomhyanggi Restaurant proved to be a good one. Torrential rain came upon Nami Island as we ordered our food. If you read my previous post, you would know how eventful it was before this.
Had we not made the decision to brave the manageable rain earlier on, we wouldn't have made it to the dining cluster. We might have to then spend the whole hour or two doing nothing in a provision shop. And that's an hour lost on top of the hours gone from the 'missing husband' incident.
Anyway, back to the restaurant. It got filled up pretty fast after we have settled in, there was even a queue. Must be the rain driving people indoors. Thankfully, once we finished our meal, the rain stopped for us to explore!
Food Review
The side dishes spread was awesome. The meat was juicy and tender. The add-on kimchi stew was the best ever tasted. Even though Seomhyanggi's Menu is not the cheapest around, I highly recommend this restaurant for its barbecue meat and stew! For two pax, we spent about S$30 on Pork Belly Barbecue set (₩13,000, S$15.90), rice and stew.
After eating, we took a walk around the pond that's beside Seomhyanggi restaurant. Golden leaves gently floated in the still waters and fallen leaves gloriously peppered the wooden floor.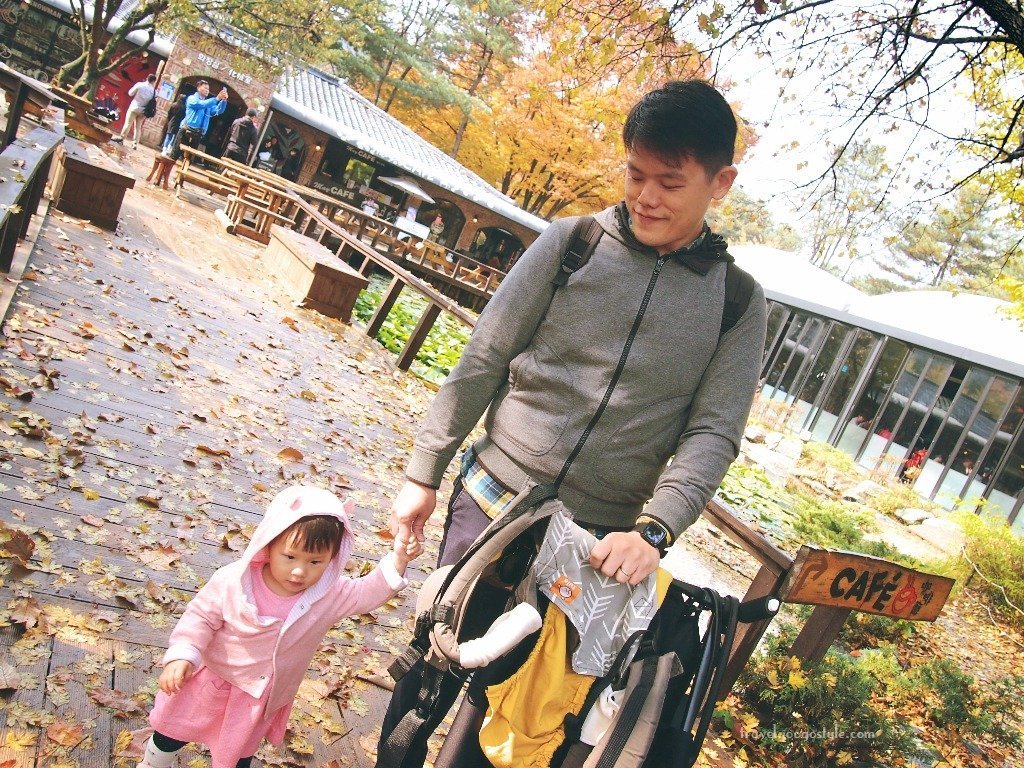 ---
Other Dining Options at Nami Island
---
Here's a list of what food is available on Nami Island. Locate these dining places on Nami Island Brochure: (Chinese Version) (English Version)
Standalone Restaurants
Nammoon Korean Restaurant: Premium Korean Food
Gomok: Western Food
Seomhyanggi: Local specialty food from Chuncheon, Dak-Galbi (spicy grilled chicken)
Restaurants in BAPLEX Building
Asian Family Restaurant Dongmoon: Halal
Ddanji Pub: Pizza and Pasta
Yeongajiga lunch box: Korean food
You can look up the menus and telephone numbers of respective restaurants at namisum.com/en/dish/restaurant.
Behind the scene: Spot the fussy crying baby
Cafes
For coffee and desserts after your meal or during tea break, there is no lack of options too. Six cafes are available on this small island:
Book Cafe: A resting place in BAPLEX for parents and children. Coffee, sandwiches and desserts.
May Cafe: For healthy folks, there's home-made fresh juices. Coffee and snacks are available too.
Coffee Shop Islana: Enjoy breakfast or afternoon tea while admiring the gardens at the rear of the hotel.
Swing Cafe: Admire the scenery of Bukhan River and nice music. Eat bread fresh from oven three times a day and if in luck, enjoy ongoing performances and exhibitions.
Sonata Cafe: For those with sweet tooth, there are bingsu (shaved ice topped with sweet pancake), ice cream and hotteok (grilled sweet pancakes).
Snow Cafe: Winter fans can dig into the famous snowman cakes and ice flakes sundaes here.
Have a sumptuous meal as you explore the beautiful Nami Island!
Useful links for your planning 🍁
---
---