What to Eat in Jeju, South Korea? | 21 Food Choices
You will have no lack of food options in Jeju. In any case, there's McDonald's to fall back on. Here's a list of those food that we have tried, plus others that were on our list but our stomachs have no more space for them.
Use the last 7 digits of the phone numbers listed to locate the respective eating places, the numbers acts like coordinates. More on GPS phone numbers in my "Guide to Driving in Jeju". I have made the numbers bold for your easy reference.
Happy eating! Feel free to jump to your preferred section:
---
Bread, Coffee, and Desserts
---
Bakery
Sister Field (시스터필드)

09:00AM – 6:00PM, Daily
+82 64-739-2225 | 231-2, Gangjeong-dong, Seogwipo-si, Jeju-do | (free parking beside building)
Verdict: The bakery takes pride in using organic ingredients and selling bread that's made on the day itself. It's a nice bakery with no seating available. The bread is nice, but not so fantastic to detour for it.
A Factory Bakery

8:00AM-8:00PM, Daily
Items from ₩3000
+82 64-720-8223 | 3 Tapdong-ro 2-gil, Samdoi-dong | (free parking beside building)
Verdict: The bakery has seating available and the bread is not bad, but nothing to rave about. Nearby, there's a walking path along the sea. Take a nice stroll after breakfast.
Cafe: Coffee and Desserts
소보리당로 222

11:00AM – 7:00PM (L.O 6:30PM), Closed on Mon, and Tues. Check Instagram for special events.
010-3832-7896(last 8 digits for GPS) | 2850-5, Sangye-dong, Seogwipo-si, Jeju (제주 서귀포시 상예동 2850-5) | (Located just off 1132 highway.)
Note: No-kids zone / No takeaway / No smoking. The menu is completely in Korean.
What others say: photo blog #1, blog #2
Innisfree Jeju House (Cafe)

9:00AM – 6:00PM, Daily
+82 64-794-5351 | 23 Sinhwayeoksa-ro, Andeok-myeon, Seogwipo, Jeju-do, South Korea

Verdict: The minimalist cafe with a wooden interior feels like an eco-friendly house. Even the food presentation from drinks to food fits into the same theme. They have meal options, but the portion is catered for small eaters. Nice, but overpriced in my opinion. Their drinks and desserts look pretty, and the fruit tea was yummy because of all the fresh fruit stuffed into the cup. We were there after lunch hour, hence the restaurant was relatively empty. Scroll right below for the menu.
O'Sulloc (Cafe, beside Innisfree)

9:00AM – 6:00PM, Daily
+82 64-794-5312~3 | Seokwang Dawon Entrance, 1235-3, Seokwang-ri, Andeok-myeon, Seogwipo City, Jeju
Verdict: Compared to the cafe at Innisfree, it was super crowded at O'Sulloc cafe. My guess is that everyone's here to satisfy their sweet tooth after lunch. On the menu there were only desserts and drinks. The set meals prove to be a popular choice among many. Each set meal serves 2pax and above. The ice cream, cake and hallabong (tangerine) freeze were all yummylicious. Scroll right below for menu.
---
Western Food
---
Seabong Kitchen

12:00AM-11:00AM
+82 64-763-8460 | 403, Taepyeong-ro, Seogwipo, Jeju Island 63595

Type of Food: Fish and chips, chicken strips and fries, chicken quesadila, burgers, gorgonzola pasta and fried rice.
What Others Say: Western food in a pub setting. Superb reviews on TripAdvisor, but we wanted some authentic Korean food and thus we chose the nearby seafood hotpot (above) in the end.
Jenny's Bread

9:30AM – 8:00PM (closing time varies, call to confirm). Closed on Sunday.
+82 64-732-7817 | 355 Taepyeong-ro, Jeongbang-dong, Seogwipo, Jeju-do (제주특별자치도 서귀포시 정방동 태평로 355)
Type of Food: Sandwich, pasta, bread, and soup.
Verdict: We enjoyed their brunch special (9:30AM-2:00PM) when side dishes of bread and soup are served free. The bread was toasted to be crispy on the outside and soft on the inside. Absolutely delicious after dipping it into the olive oil and soup. Soup was smooth. The spaghetti was tasty but a bit too oily for my liking. Overall, recommended. Our Airbnb host was the one who recommended this to us. If you are not full from eating street snacks at Olle Market (see below), walk 10 minutes (530m) to Jenny's Bread.
---
Korean Food
---
Abalone Porridge | Myeong Jin Jeon Bok 명진전복

9.30AM – 9.30PM, Closed on Tues
+82 64-782-9944 | 1282 Haemajihaean-ro, Gujwa-eup, Cheju, Jeju-do (제주특별자치도, 제주시, 구좌읍, 해맞이해안로 1282)

Tips: Go to the counter and order with your phone number. Roam around, walk by the nearby sea and wait for your turn to be called. Only four choices available – Stone pot rice, porridge, grilled and sliced raw.
Pricing: Abalone Stone Pot Rice (₩15,000, S$18.30); Abalone Porridge (₩12,000, S$14.70); Grilled Abalones (₩30,000, S$36.60), Sliced Raw Abalones (₩30,000, S$36.60).
Verdict: The taste still lingers in the deep recesses of my tongue's memory. I'll go back for this if I ever return to Jeju. We ordered the stone pot rice and porridge and they were both delicious! I really can't choose which I prefer, perhaps the rice slightly more. There's a method of pouring water into the stone pot, ask the waiter. Some may find the porridge bland but this being my first bowl of Jeju "green" porridge, it was wonderful. Green because the abalone innards were also used to cook the porridge, making it tastier than "white" porridge. And how awesome that a grilled mackerel is part of their side dish and it was delectable too.
What others say: danielfooddiary.com #quote "Grilled abalones (500g of abalones grilled till chewy soft) was my favourite." Many tables ordered this, but it looks more suitable for sharing. But for just the two of us, three dishes would be just too much food.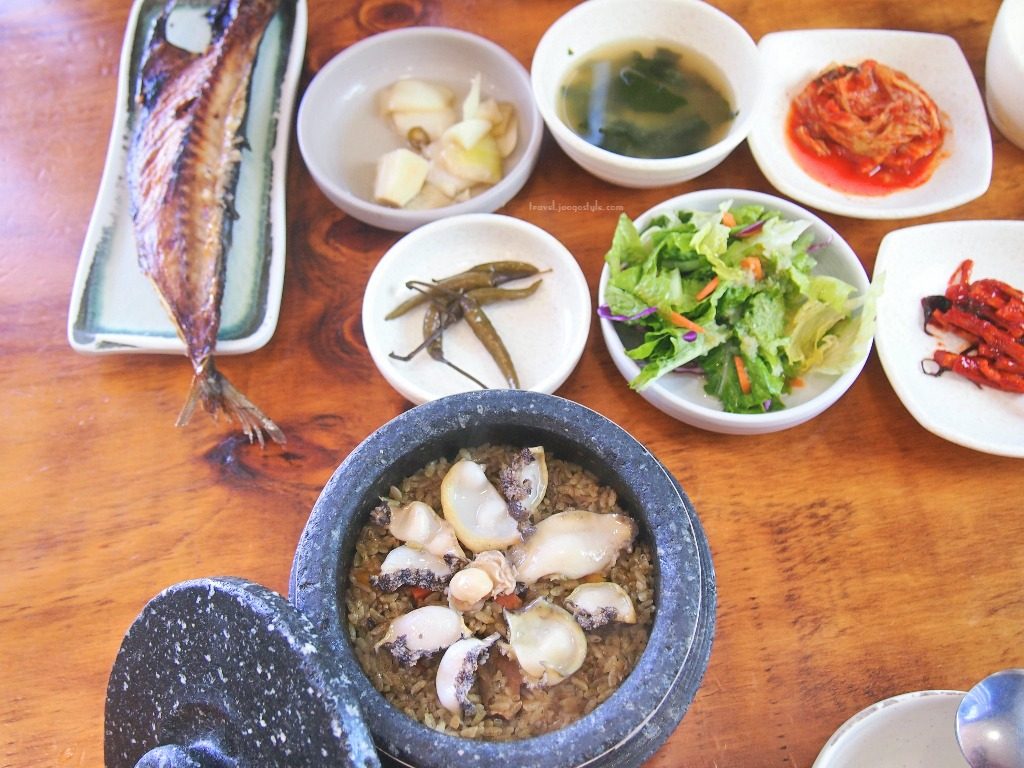 Hairtail Fish | Negeori Restaurant (네거리식당)

7:30AM–10PM
+82 64-762-5513 | 310-40 Cheonji-dong, Seogwipo, Jeju-do
Pricing: Available in soup, grilled or braised. Soup: ₩15000 (S$18); Grilled: ₩25,000 (S$30); Braised for two: ₩35,000 (S$43).
Seafood Hotpot | 기억나는집 Seafood Pot

10:00AM – 9:00PM, Daily
+82 64-733-8500 | 6 Jeongbang-dong, Seogwipo, Jeju-do (제주특별자치도 서귀포시 정방동 중앙로 6 )
Verdict: This seafood hotpot was recommended by our Airbnb host and it was good! The reviews by the locals on Kakao are not good though, perhaps they had better ones elsewhere. We're amazed at the generous portion of abalone. Then we gaped at the live abalone and octopus moving and slow cooking in that boiling pot of spicy soup in front of us. After all the cooking, the soup had a nice seafood taste to it. On the downside, the crab had little meat to it, and there was no fish in this seafood pot. Enoki and bean sprouts were in the pot too.
Pork Noodles | Guksu Bada (국수바다) (面的海洋)

08:00AM – 9:30PM, LO 8:40PM, Closed on 1st and 3rd Thursday
+82 64-739-9255 | 2130 Saekdal-dong, Seogwipo, Jeju-do (제주특별자치도 서귀포시 색달동 2130)
About: Specializes in gogi guksu (pork noodles) and Mohm-guk (몸국). Gogi guksu is one of the traditional foods in Jeju, and is a soup boiled with Jeju pork, its entrails and noodles.
What Others Say: whatsstewin.blogspot.com #quote "None around Seoul specializes in Mohm-guk. Overall prices are reasonable, though side dishes are basic. Nice, flavorful and clean. Quite nice and I enjoyed it."
Noodle Street | Guksu Geori: +82 64-727-1112, 67 Samseong-ro, Jeju-si, Jeju-do
Hallasan Fried Rice | Pungwon (풍원):

9:00AM – 6:00PM, Daily
+82 64-784-1894 | Udo Island: 2427-1, Yeonpyeong-ri, Udo-myeon, Jeju-si, Jeju-do, Korea (left of Cheonjin Port).
Pricing: Marinated grilled black pork (₩14,000, S$17); Marinated grilled cuttlefish (₩14,000, S$17); Abalone porridge mixed with Udo Peanut (₩12,000, S$14.70); Hallasan Fried Rice (₩3,000, S$3.70)
What others say: koreatourinformation.com #quote "Peak hour queue is approx 30 mins to 1 hour. Hence go for early lunch around 11:00AM to beat the queue. After your main dish such as grilled black pork, they'll serve the fried rice (if you order). While the server cooked your leftover meat, she would narrate the story of Mount Hallasan using visual illustrations with the food. The fried rice is Hallasan Mountain figure and the egg is as volcanic lava."
---
Seogwipo Maeil Olle Market
---
There are a few traditional markets in Jeju, and the one we visited was Seogwipo Maeil Olle Market (서귀포매일 올레시장). There are many street food stalls here that you can try out.
Located along course 6 of the Jeju Olle Trail, this is the largest traditional market in Seogwipo. Formed in the early 1960s, the market was further expanded to stretch over 620 metres since 2001. The market sells a variety of products, mainly regional specialties — seafood, hallabong, cheonhehyang, dried seafood, utensils, kimchi, etc. Almost half of the market sells local produce.
Details:
7:00AM – 9:00PM, Daily. Summer until 8:00PM
+82 64-762-1949 | 18 Jungang-ro 62beon-gil, Seogwipo-si, Jeju-do (제주특별자치도 서귀포시 중앙로62번길 18) | There's a multi-storey carpark connecting to it.
Experience: Our plan to have early breakfast at the market fell through because all the food stalls were closed except for a coffee shop and vendors selling fresh produce. Naturally, it wasn't crowded in the morning, while peak is usually in the evening. Hence we headed to the nearby Jenny's Bread. When we went back to the market about lunchtime, more food stalls were opened.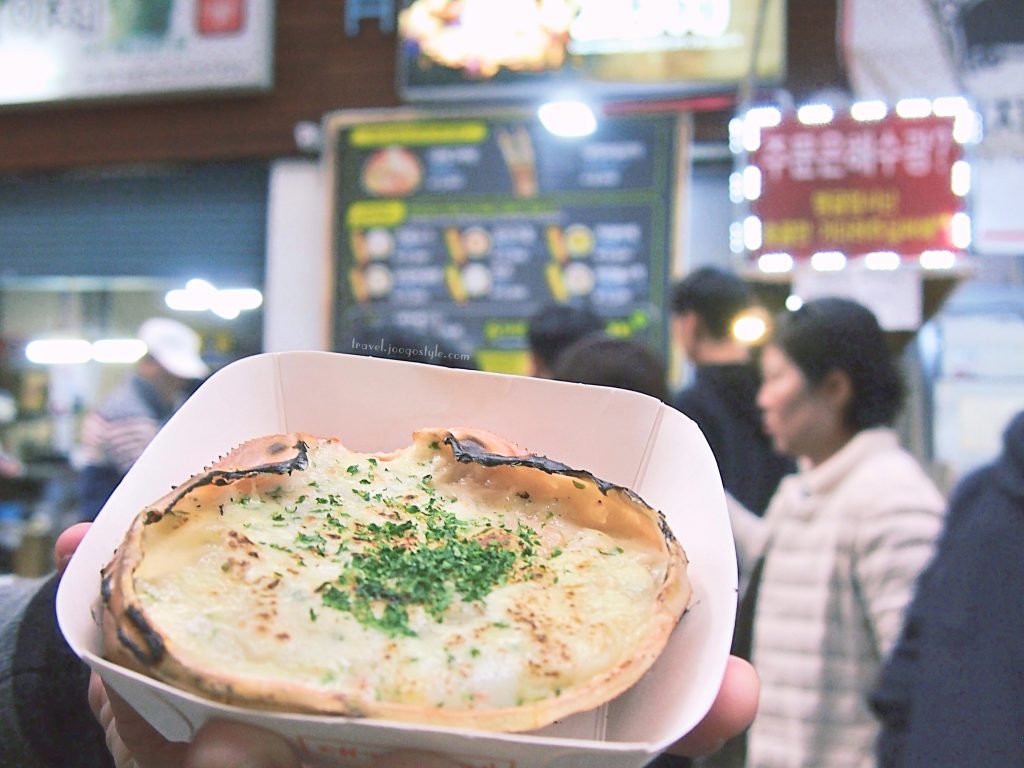 Verdict:
대게 고로케 | Crab croquettes: The crab gratin (₩3,000, S$3.70) in the crab shell looks good on presentation. As for the taste, it feels like soup chowder, nice but not rave-worthy. A variety of croquettes are also available at about ₩2,500 (S$3).
오매기떡 | Omegi Tteok (Korean rice cakes): This traditional rice cake is a specialty of Jeju. This store is supposedly one of the better ones around. No fireworks on first bite, but it tasted slightly better on subsequent bites. Perhaps we are not fans of rice cakes, we didn't really fancy them much and even had leftovers. We chose the assorted packet to try the different flavours and my favourite is the one with peanuts and surprisingly didn't fancy the one in red beans. Sesame is usually not to my liking. This Jeju specialty is good to snack on for your road trips though.
Tto-Ttu 또뜌 | Steam buns: Wanted to have these buns for breakfast. It was recommended online, but found a food souvenir shop set up below its blue signboard. Heard from the shopkeeper that the Tto-Ttu shop is closed permanently.
흑돼지 꼬치구이 | Barbecued Black Pork Sticks: If you only have stomach for one food at the market, go for the black pork sticks. We tried the one in the photo below. It was usually priced at ₩5,000 (S$6.10) but it was having a promotion at ₩4,000 (S$4.90) when we ordered. The pork was tender and succulent. Every bite oozed out juiciness.
Since we were quite full from Jenny's Bread, we didn't try all we wanted in our food list for the market. Let me know if you tried the others and if it's good! Here's the list of those we didn't get to try:
마농치킨 | Fried Chicken: A red banner hangs above the popular fried chicken stall in the market. If you are there too late, it might be sold out. No surprise that the queue can get very long. According to reviews, it's worth the wait. The garlic chicken is recommended.
문어빵굽는문빵9 | Octopus pan-fried bread: Thick crispy bread with cheese. Costs ₩4,000 (S$2.50).
Hallabong 한라봉 / 큘 하르방 | Tangerine Jeju Grandpa: Eat the cute stone grandfather bread while the Hallabong cream oozes out from it. Also, drink the juicy hallabong juice from the stone grandfather bottle.
---
Black Pork BBQ
---
You definitely have to eat black pork when in Jeju. This regional specialty is delicious while being low fat and highly nutritious. Apparently, the meat is good for health and beauty purposes.
Donsadon (돈사돈)

1:00PM – 10:00PM
+84 64-746-8989| 19, Uopyeong-ro, Jeju-si, Jeju-do; 제주특별자치도 제주시 우평로 19
Pricing: 600g of meat costs ₩54,000 (S$66) and is meant for two. You can add on 400g at ₩36,000 (S$44.90).
Experience: We reached at 6:30PM and was told to wait for an hour. Guessed so from the crowd waiting outside of the restaurant in the cold. It's impossible to wait like this with a baby. While we could go to the black pork street that's 15 minutes' drive away, it would mean a super late bedtime for baby EX and aka a cranky baby. Since Donsadon is near to our accommodation at Best Western, we decided to return to Donsadon the next day. Earlier this time round. We immediately got a table at 5:40PM.
Verdict: The meat was heavenly. So so so good. And it didn't taste like it was seasoned. If that's the case, the meat itself is really good. There's also this in-house sauce (green chilies/jalapeno) mixed with salt that is so daebak! The servers are not exactly friendly, but they helped to cook and cut the juicy meat throughout our meal. The 600g meat is barely sufficient for two. It's not cheap, but would go back again!
Other popular black pork restaurants:
Black Pork Street: Search GPS 753-0008 for Dombedon which is located near the street. There you will find many restaurants selling black pork.
Dombedon (돔베돈): 11:00AM – 12:00AM; +82 64-753-0008; 25 Gwandeong-ro 15(sibo)-gil, Geonip-dong, Cheju, Jeju-do
Neulbom Heukdwaeji: 11:00AM – 11:45PM; +82 64-744-9001; 2343-3 Nohyeong-dong, Cheju, Jeju-do
Ppolsal house 뽈살집: 4:00PM – 2:00AM; +82 64-763-6860; 37 Jungjeong-ro91beon-gil, Jungang-dong, Seogwipo, Jeju-do
Note that the prices and timings of all the above are subjected to changes.
Let me know of other good food in Jeju. Would love to add them into this list. For more Korea travel tips, refer to our itinerary for our South Korea trip (Jeju and Seoul).
If you find this post useful, be sure to bookmark this page or pin this to your Pinterest:
---
---