3 Famous Waterfalls of Jeju with a Baby
Jeongbang Falls, Cheonjeyeon Falls, and Cheonjiyeon Falls are 3 famous waterfalls of Jeju island. They are located in Seogwipo, the southern part of the island. To find the exact locations, key in the following GPS phone numbers* into the GPS of your rented car or Kakao Map APP:
Cheonjiyeon Falls (천제연 폭포): 733-1528 (+82-64-733-1528) (ticketing office); 760-6331 (actual location)
Jeongbang Falls (정방폭포): 733-1530
Cheonjeyeon Falls (천지연폭포): 760-6331 / 738-1529
*Why GPS phone numbers and why not Google Maps? Refer to my 'Guide to Driving in Jeju'. :)
Of the three waterfalls, we skipped one, and the other two were not too bad. Spot the mini rainbows found in a few of the photos! Sadly, these places are definitely NOT wheelchair nor stroller friendly.
A little background, we visited Jeju in October, during autumn as a family of three, including a 16 month old toddler. The autumn weather was supposedly good for trekking, not too hot and not too cold. But while we were there, the sun was scorching hot. So with the sun, stairs, and a baby in the carrier, our trek and climb got tiring at times. Hence, if Seoul is going to be in your itinerary, I recommend going to Jeju first before relaxing in Seoul.
---
Cheongjiyeon Falls (천지연폭포)
---
Based on what I gathered from online reviews, Cheongjiyeon Falls is the most lackluster among the three. Hence we skipped this to stretch our limited time for other Jeju attractions.
Be sure not to confuse this Cheongjiyeon Falls with Cheongjeyeon Falls, the difference is in the 'i' and 'e'.
About the Falls
Water of Cheonjiyeon Falls falls from a height of 22 metres and into the pool that's 20 metres deep. As the water appears to be falling from heaven, it got its name Cheongjiyeon, which means "sky connected with the land". Other than clear and deep waters, you can also find Mutae eels, and a great variety of rare plants in this area.
From the entrance, take a leisurely walk of about one kilometer to reach the falls, admiring flowers and plants, and photographing ducks and heron in the stream beside the path. As you approach the falls, you will hear the roaring of the waters falling from the sky. Walk a little further and Cheongjiyeon Falls, enveloped by a lush forest, will come into view.
When you are ready to leave, take a separate path designated for exit, so to prevent overcrowding. You might want to schedule an hour to explore Cheongjiyeon Falls, or half an hour if you are a fast walker and not a nature lover. This waterfall closes late and illuminates at night, so if you have nothing plan for the night, this might be a choice.
Visitor Information
GPS Phone Number:

Entrance: +82-64-733-1528
Cheongjiyeon Falls: +82-64-760-6304

Hours: 9:00AM -10:00PM (Last Entry 9:20PM)
Address: Cheonji-dong, Seogwipo-si, Jeju-do (제주특별자치도 서귀포시 천지동)
Parking: Available
Pricing: Adults ₩2,000 (S$2.40); Children ₩1,000 (S$1.20)

Group Discount: Adult ₩1,600 (S$1.90), Children ₩600 (S$0.70) if in a group of 10 or more.
Free: Children 6 years old and under, or Seniors 65 and older.
---
Jeongbang Falls (정방폭포)
---
Jeongbang Falls was only 10 minutes drive from our Airbnb (located in Ocean Palace Hotel) and so that's our first stop before we set off afar to other parts of Jeju. Had wanted to visit Jeongbang Falls the day before, along with Cheonjeyeon Falls and Jusangjeolli Cliff. But alas, our schedule over-ran.
Almost gave Jeongbang Falls a miss, but since it's near us and a mini attraction that requires about half an hour in total, we went ahead. It is anyway the only waterfall in Asia to have waters falling directly into the sea.
Apparently this waterfall is the easiest and fastest to access among the three, with a well constructed staircase leading you to it. Even though it's not a long flight of stairs, it's still relatively steep and there's the climb up to consider. If you are not up for such exercise, you can stay at the top and admire from afar – it's still quite magnificent.
One key highlight of Jeongbang Falls is that you can step on slippery wet rocks and go near to the waterfall and experience the grandeur of falling waters. Be careful of wet and loose rocks! It's dangerous for hubby who was baby wearing our daughter, and hence he stayed behind at the safe area while I hopped to the front.
During your hike down to and up the stairs from Jeongbang Falls, look out for people congregating under a shade, along the rocky coast. It is said that there are aunties selling fresh catch from the sea over there and for a fee, they will prepare raw sashimi dish with this catch.
Visit Jeongbang Falls if you are nearby or passing by, otherwise there's no need to drive one hour for a half hour attraction.
Visitor Information
GPS Phone Number: +82-64-733-1530
Hours: 9:00AM – 7:00PM (Last Entry 6:00PM)
Address: Chilsimni-ro 214beon-gil, Seogwipo-si, Jeju-do (제주특별자치도 서귀포시 칠십리로214번길 (동홍동) 제주올레길 6코스)
Parking: Available
Pricing: Adults ₩2,000 (S$2.40); Children ₩1,000 (S$1.20)

Group Discount: Adult ₩1,600 (S$1.90), Children ₩600 (S$0.70) if in a group of 10 or more.
Free: Children 6 years old and under, or Seniors 65 and older.
---
Cheonjeyeon Falls (천제연 폭포)
---
The name 'Cheonjeyeon' suggests "Pond of the Heaven's Emperor". It's what you get when you put together Cheon-Je-Yeon, which means heaven, king and pond respectively. The name is also said to originate from a folklore. Seven nymphs descend from the heavens at night, by a violet cloud bridge, to bathe and play in the waterfall's pond, before returning.
Cheonjeyeon Falls, is actually a three-tier waterfall. Waters will flow into Cheonjeyeon pond and from there cascade into a second and third waterfall, and eventually into the sea.
You will be able to visit all three falls, provided you have the time and energy for all the steps. No joke! It's steps, steps and more steps! This place is definitely not for stroller nor wheelchair. The climb was so tiring for us, even for my hubby. Caveat, we were taking turns to carry our 8kg baby as we climbed up and down the stairs. Good thing was that most part of the walkway is naturally shaded by the trees.
Cheonjeyeon (Pond): First Falls
Blink blink. "Where's the waterfall? Is this the first one?" I asked hubby.
"Look there." Following his finger, I saw water spouting out from the rocks! (Right of photo below). The scene reminded me of how Moses in the bible struck the rock, and water came out for the people to drink. It also looks like a natural drainage. Interesting.
Like Jeongbang Falls, visitors thread carefully on the rocks just to get a closer look and a better photo opportunity. Position your camera well and you will get a beautiful shot of the lagoon with its blue tinge. However, the difficulty level to walk across the waters seems higher than at Jeongbang Falls, with the rocks spaced further apart. You wouldn't get as near to the front too.
Cheonjeyeon: Second Falls
Climbing out of the first falls, I was already catching my breath. Nevertheless, we continued on towards the general direction of the second, third falls and the bridge.

With the gentle trickling of waters at the first falls, we were not expecting this massive waterfall. We marveled at how it wasquite impressive and grand. While we were there, a rainbow hue seemed to be perpetually cloaked across the waters.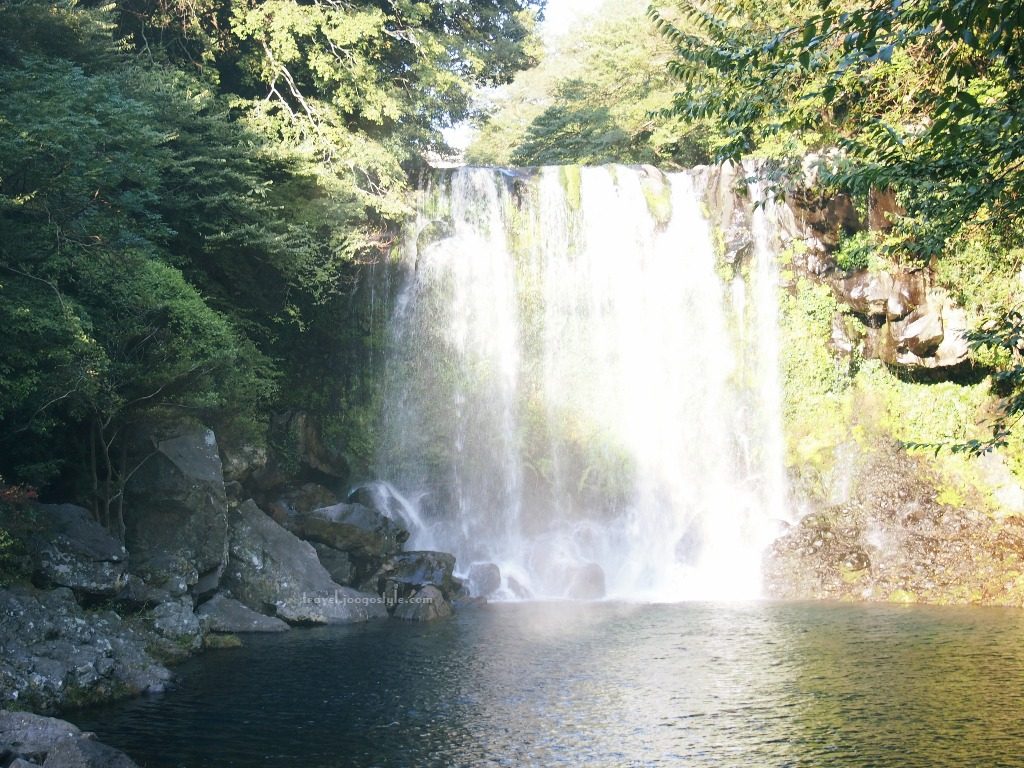 Cheonjeyeon: Third Falls
I leaned against the railings to take a breather, waving my hand to ask hubby to walk on, "I'll catch up". With longing eyes, I looked at him carrying our baby up the million of steps, and wished I was the one being carried. The steps. I took a deep breath.
In between the second and third falls, there's the Seonimgyo Bridge ("Bridge"). By the time we arrived at the Bridge, hubby and I were completely exhausted! Even hubby. It's not the end though. We had to return the way we came from, and there was going to be many steps up the slope. I shuddered at that thought.

It takes a Niagara falls level to make me continue my journey on from the Bridge to the third falls. Perhaps, that wouldn't even cut it. Good thing, I did some research and found that the third is underwhelming. Otherwise with my see-it-all desire, I might have lugged my tired hubby and cranky baby along to the third, only to be sorely disappointed. With that, we decided to skip the third falls and save our legs!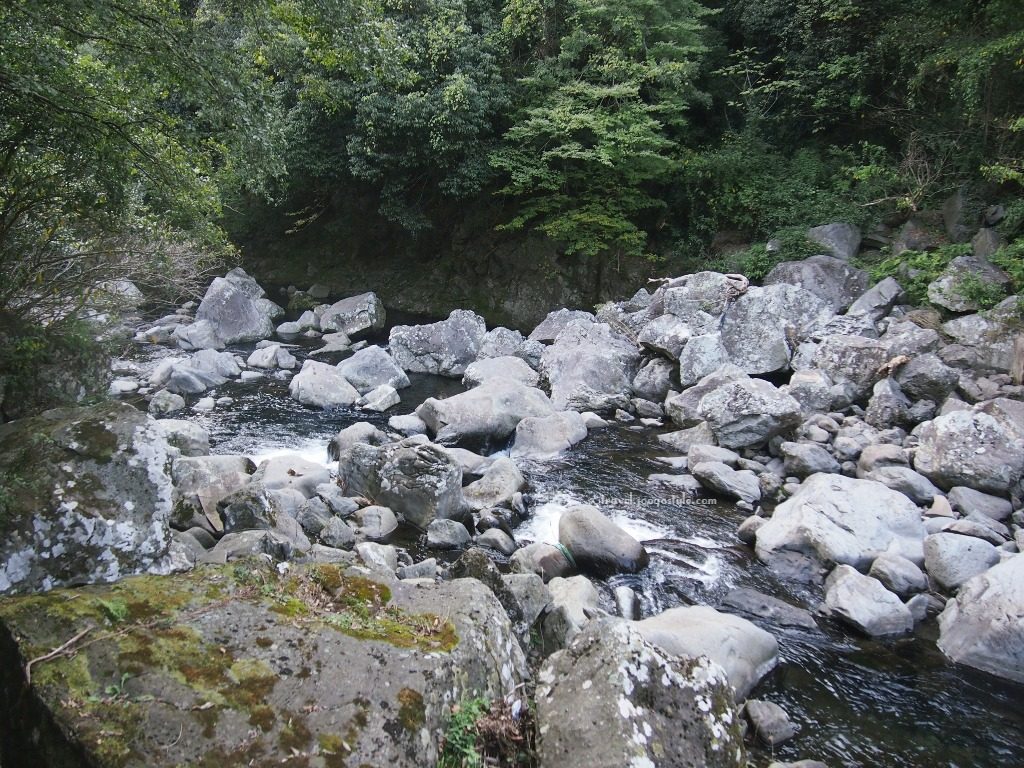 Seonimgyo Bridge
Seonimgyo Bridge is worth a section of photos devoted to it. Although we were drained, I found this part of the journey the most impressive. The bridge itself is picturesque from different angles and the scenery from the peak is breathtaking.

Carved on the side of Seonimgyo Bridge are the 7 nymphs from the folklore I mentioned. We saw the side of this arch bridge through an obscure lookout when we walked from the second falls, before the Bridge.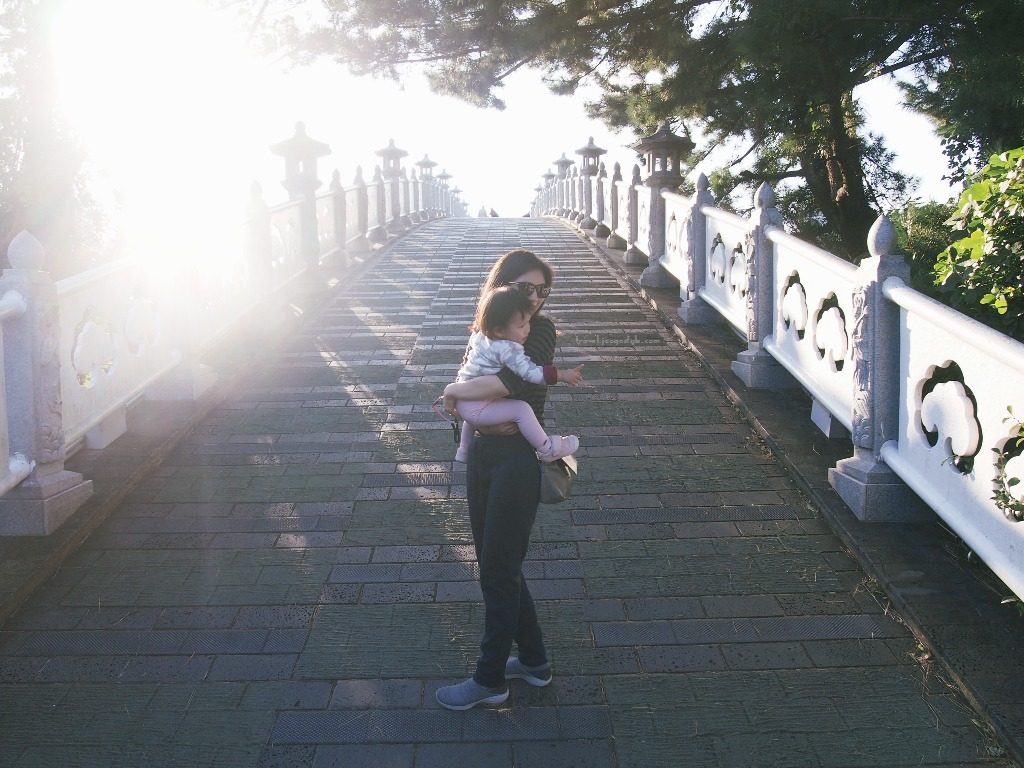 This bridge is massive, and that also means we had to climb a steep slope to get up to the top. I know, it looks deceptively like a gentle slope in the photos. We climbed halfway to the top and turned back. It's too big a bridge for the tired us to cross. But is definitely worth the climb up.
We lingered at the top of the arch to take photos with the gorgeous view, the sea and lush greenery on the horizon. Everything became smaller on a high vantage point. We peered down from the great height and realised how high we had climbed.
Apparently if we had walked across the Bridge, we will find the Fountain of Five Blessings. These five blessings are longevity, wealth, honour, love and posterity, each of these is represented by an animal that spouts out water at the fountain. Nearby is the Cheonjeru Pavilion and on it is a painting that tells of Cheonjeyeon's legend about the 7 nymphs and the mountain god.
It is also said that the Bridge connects to Jungmun Tourist Complex. So if you have a wheelchair or stroller, you can explore the option of visiting the Bridge via Jungmum Tourist Complex. Perhaps there are no steps on the other side. I thought I saw the carpark on this falls side, but couldn't find it on the map, probably I was hallucinating already. Nevertheless, I was sure the bridge was beautiful as it basked in the bright sunshine of autumn.

Visitor Information
GPS Phone Number:

Entrance: +82-64-738-1529

Cheongjeyeon Falls: +82-64-760-6331

Hours: 9:00AM – 7:00PM (Last Entry 6:00PM), Daily
Address: 132, Cheonjeyeon-ro, Seogwipo-si, Jeju-do (제주특별자치도 서귀포시 천제연로 132 (중문동))
Parking: Available
Pricing: Adults ₩2,500 (S$3.05); Youth (6-24 years old) ₩1,350 (S$1.65)

Group Discount: Adults ₩2,050 (S$2.50), Youth ₩850 (S$1.05) if in a group of 10 or more.
Free: Children 6 years old and under, Seniors 65 and older, or one with disabilities (must accompanied by one guide for people with disability (level 1-3).
Overall, its's crazy tiring, but worth the views. For more travel tips, refer to our itinerary for our South Korea trip (Jeju and Seoul).
---
---