Gangchon Rail Bike Review (Autumn)
Read my post "About Gangchon Rail Park" for information on how to get there and how to get the tickets.
---
"Should we try out the rail bike?" I asked my husband, "It's quite near to Nami Island."
"Yes, it looks like an interesting and unique experience. Let's do it!"
If only the decision process was that simple. What traversed between these two sentences were a myriad of reasons why we shouldn't ride on the rail bike, mainly due to my young toddler (16-month old).
Reasons we almost didn't ride
Firstly, our schedule would become tight if we account for the transfers from Nami Island to Gangchon Rail Park. Gapyeong Rail Park would have been a better choice of convenience (time and effort) from Nami Island, but I preferred Gangchon.
Secondly, I was unsure how safe it was to carry a 16-month old baby during the ride, the T&Cs exclude children below three for insurance. Thirdly, I was sure Evangeline could not sit still on my lap for more than 10 minutes. Lastly, I did not think I had the strength to babywear her for the whole journey in the autumn cold, while pedaling. Even though hubby was the designated main cyclist, I am not a leech.
In the end, my playful self was willing to take the risk of having a baby on-board. I couldn't give up trying this activity when we were quite near to the rail park. So here comes my Gangchon Rail Bike Review!
Logistics
Before that, you might want to know the logistical aspects of this trip. For that, you can refer to my other post, "About Gangchon Rail Park":
Why Gangchon Rail Park over Gapyeong Rail Park (since the latter is nearer to Nami Island)
Directions to and fro Gangchon Rail Park
Booking of the tickets. One easy way is to book through travel websites such as Klook and Trazy.
---
Arriving At Gangchon Rail Park
---
The photo taken at the park entrance (see below) was taken at the end of the rail bike activity. We didn't have the luxury of time in the beginning. What happened?
Starting from Nami Island's ferry terminal…
I looked left and right, the taxis were not coming as quickly, and we were at the end of the queue. All those in line were on the same ferry as us, coming from Nami Island, and we were many steps slower. Nearing our turn, there were two taxis turning in, one for the family before us and another one for us. As the taxis were about to U-turn, a tourist bus got stuck and blocked their way. I was taking deep breaths by now.
When we finally hopped on to the taxi and whisked off to Gapyeong station, it's now the subway taking a long time to come. Even a mere 10-minute wait seemed so long when rushing.
…to Gimyujeong Station,
I was getting nervous, we were going to be late. We had booked a two-seater for the 3:30PM session via Klook (Btw, two-seater is apparently a more popular choice, so book early!). It was stipulated that we should arrive half an hour earlier, aka 3:00PM. When we reached Gimyujeong Station, I looked at my watch, "3:25PM". Since the booking sites stated a 4-minute walk from the station to the park, we should be able to make it.
"I'll run over first. You just quickly walk over with the pram," my husband ordered and zoomed off.
I picked up my speed to chase after him, but after a while, I slowed down to walking in quick steps. While running with the pram and bags, the 4-minute walk didn't seem so 4 minutes. It felt like a lengthy 1.2km instead. As I walked past the rail park entrance, I saw my hubby signalling me to slow down. I was panting furiously.
…to the Rail Park.
"See that long queue?" My husband said, pointing into a distance, and continued, "They're all waiting to get on the rail bikes. The line is only starting to move. When I was asking the counter staff for directions, someone was still getting the rail bike tickets for the 3:30PM session." And that someone turned out to be in the bike just behind us. Phew!
Even though we joined the queue at about 3:40PM, we still had time to take turns to go to the toilet. The queue was moving very slowly as people were getting on the bikes in an orderly fashion. I didn't expect one session to have so many people – you can get an idea of the crowd in my photos at the end of this post.
All's good in the end. Morale of the story, to have a relaxing trip, remember to account for enough buffer and travelling time!
---
The Journey of Gangchon Rail Bike
---
Setting Off: Slow
"Hello!" Evangeline waved. Her wave before she fell into a short but deep slumber thereafter.
We squeezed our things — foldable pockit stroller, three bags, sweaters, camera, phones, etc — around and under our seats and buckled up. The staff helped me to adjust the seat forward for my short legs to reach the pedals. :P Then, our wait continued. This time, it was to wait for the four-seater bikes to move off first.
After an approximately 10-minute wait, I was glad we were finally moving, but only for about 100m when we stopped again. Understandably, it was a long line of bikes, and the bikes were setting off slowly because of the need for safety distance. In any case, it was a good pit stop to ask the staff to take a photo of us in the 2-seater bike.
Moreover, all my worries of riding with a baby were gone at this moment. Evangeline was so tired, she KO-ed when our bike moved that short distance forward. She even slept through super loud noises for one of the tunnels we went through.
How about the pedaling while carrying a baby?
The Ride: Slow & Relaxing
If you are not sporty and are worried about how taxing the cycling will be, I can safely tell you that it's quite easy peasy! Or perhaps I had a good bike partner. Both of us felt that it was a slow and relaxing cycle, and before we knew it, we had reached the point to disembark. By the way, I was baby-wearing my baby for the whole journey.
The cycling was not taxing nor intensive, we could even rest our feet and not pedal at times. This is so the bike can slow down to maintain a safe distance and not bump into the bike in front of us. Moreover, sometimes we had to hand-brake, like when we hit downward slopes that accelerated the bike.
We could also take our own sweet time to enjoy the scenery and take photos because sometimes the bike behind us lagged quite a bit. In any case, you should enjoy the journey and not be stressed by, if any, a tailgating bike. It wouldn't matter if a bike is slightly slower, bottleneck situation accumulates and most people wouldn't know where's the "weak link" anyway. Btw, the bike behind us was cycled by a ~60 years old grandma and her ~9 years old granddaughter. If they can do it, so can you! :)
Scenery: Remarkable
In the cool air, the lalang grass waved at us, so near we could touch them from our bike. Casting my view further, sparsely scattered houses made me envy of the quiet and contemplative countryside life. I took in breaths of fresh air as we rode past mountains glimmering in an orange golden, and a quiet river rippling in between towering mountains.
It was a good choice to come during autumn, heard it's beautiful in winter too. The other two seasons should be nice as well, but nothing to shout about. This scenery is supposedly nicer than the one at Gapyeong Rail Park.
Four Mountain Tunnels: Interesting
The tunnels we go through here is supposedly more in count than at Gapyeong Rail Park, and hence more worthwhile! :P Cycling through mountain tunnels is quite intriguing, but four times would have been boring. Hence, Gangchon Rail Park added a little spice for three of its four tunnels. I must applaud them for their thoughts and efforts into curating the tunnel experience.
This video gives you a glimpse of what you might experience in these three tunnels:
We enjoyed the first tunnel in its barest form, while having bubbles flying all around in the second tunnel. In the tunnel lighted up in blue and purple, the bubbles danced around us to bubbling sound effect and an upbeat song. Then in the third tunnel, flashing white lights in the dark created a starry night atmosphere, coupled with a slow romantic song for the mood.
For the last tunnel, throbbing strobe lights with ear shattering thumping disco music thundered through. Good thing Evangeline was so dead tired that she slept through this. This is supposedly the tunnel for VR experience, but nowhere could we opt in for it. So I'm not sure if it's still available.
---
Transfer Stop: Bike to Train
---
Our rail bike kissed the butt of the bike in front and came to a stop, concluding our time on the rail bike. We wished the ride had been longer as we basked in the magnificent view of the golden mountains. Being the last few bikes to reach, we didn't have much time to admire the spectacular landscape, except to snap a few photos. A few others went for a quick toilet break at this stop.
---
Second Part of the Journey: The Train
---
Boarding the Train
We walked from the rail bike to the train, which would bring us through the second part of the journey and to the end point, the old Gangchon Station. From there, we would take a free shuttle bus back to the starting point, which is near Gimyujeong Station. More information in my post, "About Gangchon Rail Park".
No one's rushing us to get on the train, but I felt rushed by the people heading so quickly towards it. Moreover, most people were already on-board the train, while empty bikes abound. This reminded me of what hubby overheard a tour guide telling the first few bikes in the beginning, "There's no point riding fast and rushing. Because you'll still have to wait for everyone to arrive and board the train."
As we were about to head up the first carriage we came to, someone told us it was full. So we went to the next one, and the next one, and next, and finally we went up to the last carriage, which technically was the first from the train head. It looked full too. However, we had no choice but to head up and find pockets of seat.
Thank God for hubby's sharp eyes, he spotted an empty row hidden among the crowd and we squeezed in. I think this is the only carriage that is open air and perhaps why it still had seats. The rows are uncomfortably close to one another that you are just a whisper away from the person in front of and behind you.
The Journey 
Facing the front, we were on the left side of the train, which you can see in the photo above, doesn't have much of a view. So if you have the choice, pick the right side (pun intended). The train journey was effortless for us as we sat there while the train chugged past scenic views in a leisurely pace.
The Fellow Riders and The Ride
Like I've said, there were lots of riders. The photo above only captured the front part of the crowd while the rest stretched all the way till the end, and couldn't fit into the frame. Regardless, enjoy the ride! Hubby and I were glad that we didn't skip this, otherwise we would have missed out on this lovely experience. On hindsight, my initial worries seemed so aggravated.
So if you have time and are nearby, like in Nami Island, slot in this activity and get your tickets through Klook and Trazy today. Book early for your desired timing, yes, the sessions have specific timings.
Have fun!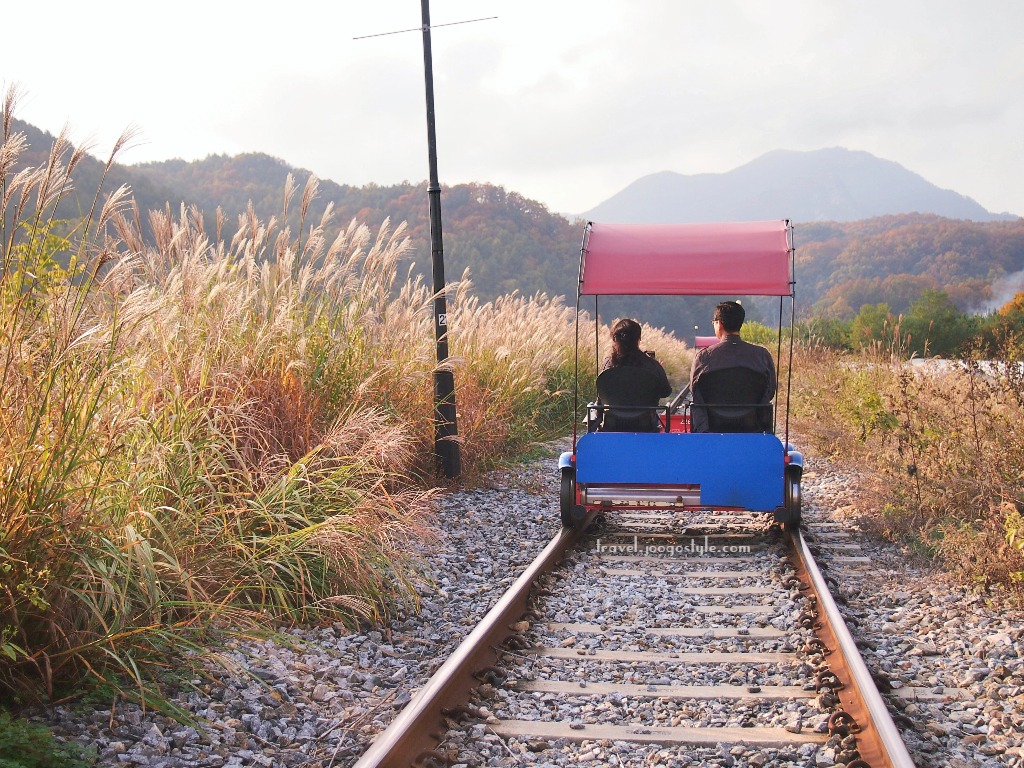 Disclosure: Some of the links in this post are affiliate links. Affiliate link means I'll get a small commission if you make a purchase. There's NO extra cost to you. I appreciate your support to maintain this website, so that I can share more tips with you. Thank you!
---
---