From Seoul to Nami Island
There are quite a few ways to get from Seoul to Nami Island, and I got a bit confused while searching for the perfect way. So after doing my research, I've come up with a step by step guide of how to get from Seoul to Nami Island. Hope you find a way that is suitable for you. Depending on where you are in Seoul and the transport mode, it generally takes about two hours of travel.
---
Step 1A: Travel by Subway   
---
Subway (all the way) to Gapyeong Station
You can travel by subway/metro all the way from your nearest station to Gapyeong station. That will take longer than the following ITX option. However this is debatable.
Certain websites recommend not to take ITX because many passengers missed their train, waited 30 minutes for the next one and ended up late for this booked activity. According to them, not much time is saved with ITX anyway.
Subway, and then ITX train to Gapyeong
ITX train is a high speed train that shortens your travelling time to Gapyeong or Namchuncheon Station.
From Seoul, you can take ITX train from your nearest ITX station. You can find the nearest station when you search for the fastest available route through platforms such as www.rome2rio.com and KakaoMetro mobile app.
You can also find out how long and how much to get from one station to another through www.seoulmetro.co.kr/en/cyberStation.do#wayInfo.
If you can't find a suitable departure timing from your nearest station, there are more timings available if you depart from Yongsan or Cheonggyani Station.
---
Step 1B: Take ITX Train
---
Duration (For Reference)
Yongsan > Gapyeong Station: ~55 mins
Cheonggyanni > Gapyeong Station: ~40 minutes
Schedule
You can check the train schedule as if buying the tickets. Here are the options to select at www.letskorail.com/ebizbf/EbizBfTicketSearch.do*:
Travel Category: Normal Type
Travel Type: Direct
Departure Date: Choose your travel date
Departure/Arrival: Yongsan/Gapyeong
Train: ITX-Cheongchun
*If you cannot access the link, go to www.letskorail.com and select 'Rail Tickets' tab at the top.
Pricing
You can purchase ITX tickets at the station, but many online blogs highly recommend booking ITX ticket in advance. Here's a detailed post on how to buy online: budgettravel2korea.com/2015/12/how-to-purchase-itx-train-ticket-to-nami-island.html
Price from Yongsan: ₩5,200 (S$6.50, US$4.70) (allocated seating); ₩4,900 (S$6.00, US$4.50)(standing/non-assigned)
Price from Cheonggyanni: ₩4,300 (S$5.30, US$3.90) (allocated seating)
---
Step 2: Take Bus from Gapyeong Station to Wharf
---
From Gapyeong Station, you need to take a bus to the wharf for Nami Island. There are two types of buses: City Tour Bus and Intra-City Bus. The bus stops for these two buses are different. So don't get to the wrong one.
Gapyeong Tour Bus
One day pass is ₩6,000 (S$7.50, US$5.50) (Single trip ticket is unavailable)
Stops at the popular attractions — Nami Island, Petite France, Garden of Morning Calm and Gapyeong rail park**
** Different from the Gangchon rail bike park.
Intra-City Bus (Green Bus)
Since we are only going to Nami Island, one out of the four popular attractions, intra-city bus (green bus) works better for us. Two single tickets are still cheaper than City Tour Bus's day pass. Moreover, it takes longer to travel with City Tour Bus as the bus arrives only every hour, and has more stops than intra-city bus. Also, if the popular City Tour Bus is full, you have to wait for the next one.
Take the intra-city bus (green) at the bus stop opposite of Gapyeong Station. The bus numbers are 33-5, 33-24, 33-36. To be sure, ask the driver if he's heading to 'Namisum'.
Single trip is ₩1,300 (adult). Transfer discount if you take the subway to Gapyeong. You can use your T-money card to pay the fare.
Stops only at Gapyeong bus terminal, train station and Nami Island.
From Gapyeong station, it takes 5-10 minutes to reach Nami Island.
Bus arrives at about every 20-30 minutes.
Bus Timetable for leaving Nami Island (7:50/8:40/9:20/9:50/10:20/11:00/11:40/12:20/12:50/13:20/13:50/14:20/14:50/
15:20/15:50/16:10/16:40/17:10/17:50/18:10/18:30/18:50/19:10/19:30/19:50/20:10/20:30)
Taxi (Alternative)
If you are in a rush and cannot wait for the bus (not very frequent), take a taxi at about ₩3,500 to ₩5,000 (S$6.20, US$4.50). We took a cab in the end because we were rushing – long story, will write about it in my Nami Island post.
Alternative Route for Step 2: Direct Bus
By now, you'll see how complicated it is to travel from Seoul to Nami Island. You can take a taxi to save you the trouble, but that's expensive.
Hence, you might want to consolidate Step 1B and 2 into a direct bus ride, bringing you direct from Seoul to the ferry wharf. You can book a bus that departs from Seoul: Insadong, Namdaemun or Myeongdong.
Book direct with the bus company for one way ticket: namisum.com/en/location
With the recent increase in the ferry prices, this Klook package (of direct bus and ferry) seems to be more worth it. Moreover, booking through Klook saves you the hassle of getting the tickets individually.
Otherwise there many other highly reviewed Nami Island tours from Klook to consider.
This would have been the most economical fuss-free way for us to travel with our baby. But the bus timings didn't work out for us.
---
Step 3: Take a Ferry or Zipline to Nami Island
---
As you alight at the Nami Island bus stop (Gapyeong Wharf), you have two ways to get to Nami Island. You either take a ferry or zipline/zipwire across the water.
Zipline is only one-way. So on your return trip, you have to take the ferry from Nami Island. If not for baby, I think I would consider the zipline! It's an interesting mode of transport. Spot the penguin below to get to zipline's counter.
Admission Ticket (Visa)
Pricing

Ferry + Entrance (Adult): ₩13,000 (S$15.90, US$11.70)
Zipline + Return Ferry + Entrance (Adult): ₩44,000 (S$53.70, US$39.40)
Discounted rate ₩10,000; Special rate ₩7,000

Admission ticket (visa) includes the ferry fare and entrance fee.
If you're a tourist, bring your passport to get a discount.
For Zipline hours and information on discounted and special rates: namisum.com/en/information
Ferry Schedule from Gapyeong Wharf
Every 30 minutes from 7:30AM to 9:00AM; 6:00PM to 9:40PM.
Every 10-20 minutes from 9:00AM to 6:00PM.
Source: namisum.com/en/ship-operation
---
Step 4: Explore Nami Island
---
Enjoy the scenery, take tonnes of photos, cycle with rented bikes or electric tri-way, and have a delicious lunch. If you have luggage with you, store them in the lockers in Nami Island and free up your hands.
One can spend two hours to a whole day at Nami Island. On hindsight, it will be nice to spend a whole day on Nami Island with the baby.
For ideas of what you can do on Nami Island, read my post on Things to Do in Nami Island (Autumn).
---
Step 5: Going from Nami Island to Gangchon Rail Park
---
After taking the ferry back, you can either cab or take a bus to wherever you are heading next. Here are the timings and bus stops for the intra-city bus and Gapyeong Tour Bus leaving from Nami Island Ferry: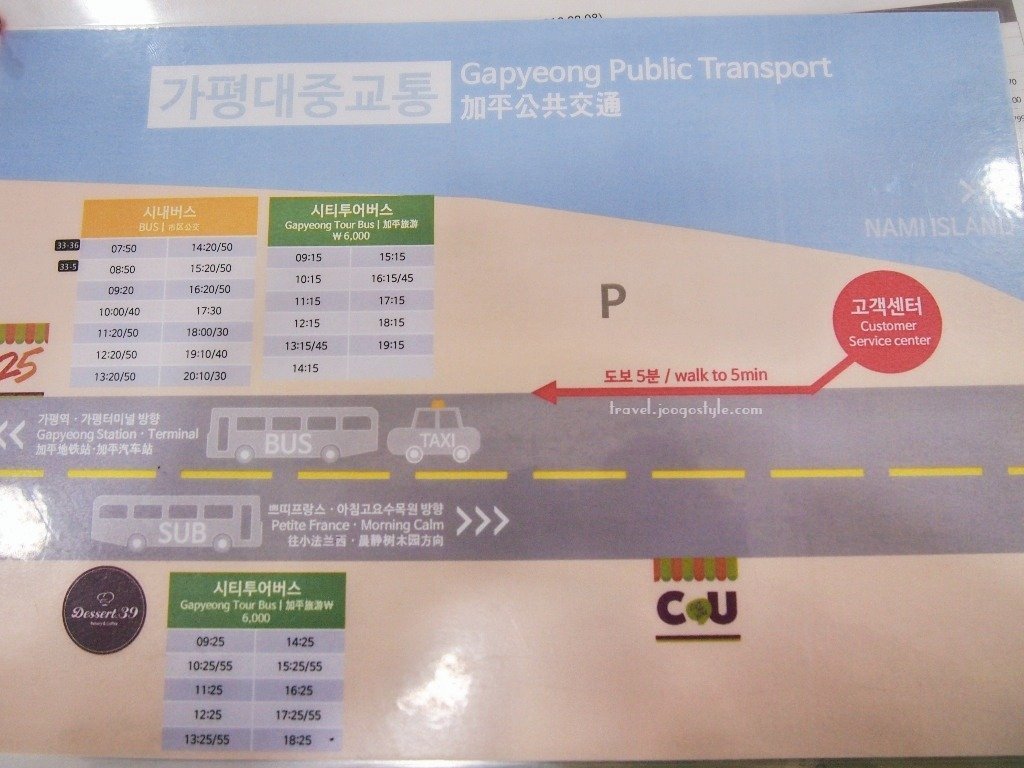 After Nami Island, it's time for us to head to Gangchon Rail Park! I was contemplating which is better — Gangchon or Gapyeong Rail Park. Not many blogs have a definite conclusion, so after putting all the bits and pieces of information together, I decided on Gangchon Rail Park.
To find out the reasons for my choice and how to go from Nami Island to Gangchon Rail Park, read my post, "About Gangchon Rail Park". As for how our bike ride in autumn went, here's our Gangchon Rail Bike Review.
Disclosure: Some of the links in this post are affiliate links. Affiliate link means I'll get a small commission if you make a purchase. There's NO extra cost to you. I appreciate your support to maintain this website, so that I can share more tips with you. Thank you!
---
---