What to Do in Nagasaki for 2 Days?
---
Getting to Nagasaki
---
From Fukuoka to Nagasaki
"Two bus tickets to Nagasaki, please. Via Hakata." The ticketing officer at Fukuoka Airport looked at us in bewilderment. Then, he tried his best to explain in English that it was a bad idea. Upon his advice, we got the bus tickets that brought us straight from Fukuoka Airport to Nagasaki (read post to find out why it was a bad idea).
From Nagasaki Bus Station to Hotel
After a 2.5 hour bus ride, we reached the standalone bus interchange that had neither shopping mall nor information counter nearby. We muddled out of the bus interchange with our luggage and baby to look for our bus stop. It was supposed to be just opposite the station. Should be easy peasy.
Photo unrelated. This was taken somewhere in Nagasaki. Read on to find out.
We were too in shock to take photos at this point.
Our jaws dropped. We walked nearer to the main road, and took a closer look. Are we getting this right? It was a huge intersection with NO traffic lights.
"How do we get up there?" I pointed to that seemingly complicated criss-cross overhead bridge. We walked a few more steps and saw the long flight of stairs. Should we have taken the bus via Hakata that would have brought us near to our hotel?
"It's too difficult for us to carry our luggage and baby up. Let's take a cab instead," hubby suggested.
As if the taxi drivers knew this would happen, there were a few taxis readily parked nearby. Told the taxi driver our destination, Hotel Belleview Nagasaki Dejima, and he nodded his head and said, "Okay okay," in the Japanese way. Even though hubby insisted on carrying our heavy luggage up, the old taxi uncle grabbed, lifted and tucked them into the big boot space. Felt bad, because he looked old enough to be my grandfather!
---
Stay: Hotel Belleview Nagasaki Dejima (Review)
---
The Room
A quick check-in at Hotel Belleview Nagasaki Dejima and… FINALLY THE BED! After a red eye flight to Fukuoka and another bus ride to Nagasaki, we were sooo tired. My two babies concussed for a while before we headed out again! The double bed (1.4m wide) in the room was smaller than queen, so it was a bit of a squeeze for the three of us at night. Our initial booking was for semi double, which is only 1.2m wide! Good that we up-sized the bed.
It wasn't a huge room. There wasn't even a wardrobe but just a few wall hooks to hang your stuff. Needless to say, the toilet was small. Actually the size was not too surprising for Japan, except I thought it would be bigger in Nagasaki where there's more "land" than Tokyo.
The Breakfast
The hotel breakfast buffet is commendable as well. It's not crowded and the food, mainly Japanese cuisine, was quite delicious. This was where baby Evangeline got her first mouth of Japanese rice! See her happy grainy face in the photo below. Get your food tray at entrance and fill them up. You can even take the food tray up and dine in the comfort of your hotel room!
Overall
Overall, we would recommend this hotel. The service from the reception counter to the restaurant is good. The staff are helpful and friendly, such a contrast to the one in Fukuoka.

Important Information
Our Booking

Double Room with Double Bed. Breakfast Included.
2 weekday nights: 20,400yen (S$250.50)

Public, offsite parking is available for 1080.00 yen (S$13.30) per stay. You don't need to make reservations, but still it's better to email and ask!
---
Day One in Nagasaki
---
Nagasaki (長崎) is a port city on Kyushu island and the capital of Nagasaki Prefecture.
Dejima Wharf (
Lunch and Walk)
After the short nap, we sauntered our way to Nagasaki Dejima Wharf. It's about 7 minutes walk from our hotel in the cool weather. Ships and boats of various sizes were docked at the quiet Nagasaki Harbour.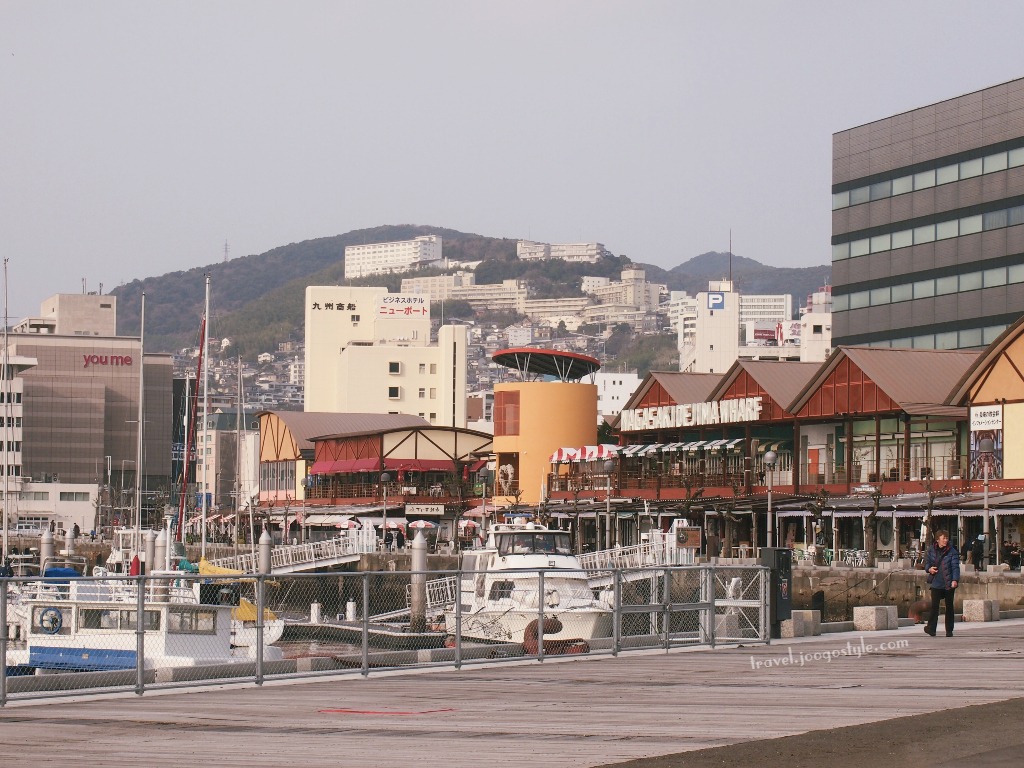 Restaurants selling a variety of cuisine and other shops such as beauty salons can be found on the first and second floors of Dejima Wharf. But we didn't explore the second floor as our baby was asleep in her stroller and we couldn't find a lift.
It's a nice and cosy place to dine outdoors, but the place didn't really have that atmosphere found in other fisherman's wharf. How's the food then?
We dined at Delicious Restaurant Attic where we had pasta, cake and their famous Ryoma Yataro Cappuccino. Read our review in '5 Food to Eat in Nagasaki'. Btw, if Italian cuisine is not your cup of tea, try the sashimi don or fried chicken at Kaisen Ichiba Nagasakiko. Yes, we went back to Dejima Wharf again the next day just to try Kaisen!
Dejima Wharf and Beyond
Nagasaki Seaside Park
After the late lunch, we decided to stroll to Glover Garden and digest a bit. Wrong move. What started as a 1.3km journey became much longer. We got lost and wandered into a big park, Nagasaki Seaside Park. It's a nice place to chill and have picnic, except we were on a tight schedule.
Nagasaki Prefectural Art Museum
Near to Dejima Wharf, we also came across Nagasaki Prefectural Art Museum. I really love visiting art museums, but I think it might be hard to handle an 8 month old in a quiet museum. So we had to skip this museum that has an extensive collection of Spanish art, one of the largest in East Asia. Of course, it also features art related to Nagasaki, displaying works produced since Meiji period.
Admission is only 400yen (S$5) and it closes every second and fourth Mondays. For more info, visit www.nagasaki-museum.jp/english
Glover Garden and Oura Church
"I'm so tired!" I panted and tried to catch my breath as I spoke. "Let me sit down to rest a bit."
Hubby chuckled. Even with a sleeping baby strapped on him, he was still going strong. After a long walk from Dejima Wharf to the vicinity of Glover Garden and Oura Church, I wasn't expecting more walking and slopes to climb.
The place was a maze and we got lost a bit, and when we finally found the garden's entrance, I was dead beat. Sadly, we could only oogle and walk past all the shops along the way because Glover Garden was closing soon at 6:00 PM during winter. And all shops were closed when we came out of Glover Garden. At least, we managed to pop in this little shop to get Castella Cake. :)
Read our whole experience in this post, "Glover Garden and Oura Church".
Hamnomachi Shopping Arcade & Chinatown (
Shop and Dinner)
Time for dinner! We headed towards the direction of Nagasaki Chinatown and Hamnomachi Shopping Arcade. We searched high and low for Izumiya, a well hidden Unagi restaurant in Chinatown.
The wooden sliding door opened just as we were about to open it. An old auntie in uniform, with a shoulder bag hooked on her arm, stared back at us. It took her a few seconds before she came to a realisation and gestured with an apologetic look, "Sorry, we're closed." My heart sank, it was only 6:00PM. I wanted badly to dine here.
Among the various shops including greengrocers, discount shops and local specialties shops, we could perhaps find another restaurant to dine in. I was cheered up a little by the beautiful red lanterns hanging from above the main walkway in Chinatown. There were also zodiac animal light displays mounted along the way. They were all part of "Nagasaki Lantern Festival", a tradition that illuminates Nagasaki's winter every Lunar New Year.
In the backdrop of red vibrancy, we found that most restaurants were closed relatively early or were too crowded or tiny to accommodate us with a baby and a stroller. We were too tired to search anymore, and it was getting late.
So reluctantly, we had McDonald's for dinner. Two meals for 1,130yen (S$13.90). We climbed up to the seating area on the second floor and squeezed among the youth studying and chatting in low voices. Baby Evangeline's whimpers were loud in the quiet fast food restaurant. And there we were, eating the palatable but nothing to wow about meal as we carried baby to eat her Donki's sweet potato, enjoying the pleasant respite.
---
Day Two in Nagasaki
---

Nagasaki's Streetcar / Tram
Quick breakfast at Hotel Belleview Nagasaki Dejima and we're off to explore more of Nagasaki. We were excited for our first ride on the city's tram or streetcar! This type of transportation always gives the resident city a nostalgic, old city feel.
A single trip is 120 yen (S$1.50), regardless of distance, while a one day pass is 500 yen (S$6.20). Informative e-brochures can be found at top page of visit-nagasaki.com/GettingAround.
It is easy to get around the city with the streetcar. Nagasaki City itself is quite small, or probably the attractions are not far from one another. We could pass by the same place a few times while heading elsewhere. Compared to Tokyo, Nagasaki is a small, quiet and slow paced town.
Izumiya, Unagi Restaurant (
Lunch)
Before heading further up north to Atomic Bomb Museum, I wanted to go back to Izumiya for their Unagi. Good thing they were opened when we were there for early lunch. Glad we made that decision! The just about right charred unagi was so tantalising. Find out more in '5 Food to Eat in Nagasaki'.
Site of the Martyrdom of the 26 Saints of Japan
As we departed from Ohato area to Atomic Bomb Museum, our streetcar passed by the Site of the Martyrdom of the 26 Saints of Japan. Had we had time, we would have alighted at Nagasaki Ekimae streetcar station to visit the site's monument and museum (500yen, S$6.20).
The monument faces Oura Cathedral which is also dedicated to the martyrs. If you are interested to learn about the history of Christianity in Nagasaki – from the rise, to persecution to revival – do visit the museum that is behind the monument.
Background of the 26 Martyrs
On February 5, 1597, Toyotomi Hideyoshi executed 26 Catholics as a public warning to Japanese converting to Christianity. Toyotomi was a preeminent daimyō, warrior, general, samurai, politician, and Japan's second "great unifier".
Of the 26 Martyrs, 6 were foreign missionaries, and 18 Japanese Christians. They were forced to walk 800km from Kyoto and Osaka to Nagasaki, which was chosen for its significant Christian population. 2 more Catholics joined them along the way. They took one month to reach Nishizaka Hill, where they were publicly executed. This public crucifixion marked the beginning of a two century long Christian persecution in Japan where many more were martyred.
Atomic Bomb Museum and Peace Park
On another sober note, we finally reached Atomic Bomb Museum which is adjacent to the Peace Park at Ground Zero. 9 August 1945, 11:02am, the exact moment when the atomic bomb destroyed many innocent lives in Nagasaki.
Join us as we revisit this heart wrenching part of history in "Nagasaki Atomic Bomb Museum and Peace Park". You will find many remnants of the horrific event displayed, witness accounts recounted and feelings penned. At Ground Zero, part of the destroyed Urakami Cathedral still stands.
The irony of Urakami Cathedral: Public crucifixion of the 26 martyrs didn't stamp out the christian community in Nagasaki. Instead it flourished and 250 years later, it was discovered that there were thousands of baptized Christians in Nagasaki, living their faith in secret catacomb, unknown to the government. International pressure stopped the government from persecuting these underground Christians again. The revitalised Christian community then built the massive Urakami Cathedral which is ironically destroyed at Ground Zero by American Christians.
Horaiken Bekkan (Lunch Option)
Collectively, Atomic Bomb Museum and Peace Park is quite a huge area to explore. So it might be a good idea to break the tour into two parts, rest and have lunch nearby before continuing. You can try Nagasaki Champon, the local specialty, at nearby Horaiken Bekkan
5-23 Hiranomachi, Nagasaki 852-8117, Nagasaki Prefecture
+81 95-846-2277
Mon-Sun, 11:30AM-3PM / 5-9PM
Kaisen Ichiba Nagasakiko Dejima Wharf (Dinner)
However we were too tired and time pressed to climb up the flight of stairs to Horaiken Bekkan. So we went to Dejima Wharf again (where we had our lunch on our first day). And there we had sashimi don bowl and fried chicken. Was the bowl nicer than the one we had in Otaru? Find out in '5 Food to Eat in Nagasaki'. ;)
Nagasaki Dejima
If you still have time, you can consider visiting Dejima, the "replanted" Site of the Former Dutch Trading Post. The original Dejima is a fan-shaped island constructed in 1636 to segregate foreigners from the Japanese population during national seclusion from 1641 to 1859.
The original Dejima's historical structures and reconstructs, such as the residences, warehouses, and gates, have now come together at the current site. Experience what was life back then in Dejima while you rent and dress up in traditional Kimono. It'll be interesting to take photos of you in Kimono against a backdrop of Japan-meets-West buildings.
Currently, Nagasaki City is engaging in plans to restore Dejima to its 19th century state, with plans to dig canals on all four sides to make it like an island.
Dejima tram station (right next to Dejima)
Daily, 8:00 to 6:00PM (until 7:00PM in summer and peak), admission ends 20 minutes prior
510 yen (S$6.30)

Mount Inasa
After a day of hustling, it's time to enjoy the ten million dollar night view at Mount Inasa. It is said to be one of Japan's three best night views. Is it worth to take the trip up to Mount Inasa? Find out in 'Night View of Mount Inasa (Nagasaki)'.
I've compiled an amateurish video to show the different parts of Nagasaki, including Mount Inasa's night view. Play the video below and have a peek into the land of Nagasaki!
After Nagasaki, we drove to Kumamoto, and then to other parts of Kyushu. Read our interesting road trip experience with a baby: Self Drive in Northern Kyushu (Winter).
---
---