Nagasaki Atomic Bomb Museum and Peace Park
An elderly man sat diagonally opposite of me. Two girls in uniform stood near the door of the tram. They were talking in low voices in their beautiful Japanese language, without any cares in the world. I looked at my hubby opposite of me and wrapped my arms around our baby. My heart was jumbled with mixed emotions. We were on our way to Nagasaki Atomic Bomb Museum and Peace Park.
This day was like any other day, like the day when the atomic bomb dropped on Nagasaki. Who could have expected it? It was a horrific event, but a part of me was grateful it happened to stop the world war. Otherwise, how long more should my ancestors suffer? Moreover, what's one day of destruction compared to three and more years of suffering?
Yet a trip to the museum made me understand the brutality of atomic bomb. The catastrophic effect and after effect of a nuclear weapon. Apparently the war was soon coming to an end, this bomb just accelerated it by a bit. We never know what really went on behind the scene. Nevertheless, tragic history has been written.
---
Nagasaki Atomic Bomb Museum
---
Entrance
It was not easy to find Nagasaki Atomic Bomb Museum ("museum"), which was near to Ground Zero. We climbed up a slope, took a lift, and walked a distance. From where we were coming from, we could not find any obvious signboard to direct us to the museum. We almost went to the wrong building, Nagasaki City Peace Hall, which was next to the museum.
From the cold, we stepped into the museum and warm air enveloped us. "Is this the place?" Hubby and I asked in unison. Streams of colourful thousands origami paper cranes (千羽鶴 Senbazuru) welcomed us. As we walked nearer to admire them, we found art pieces of minature cranes in bottles, and cranes of special materials, such gold plated ones, encased.
A staff kindly pointed us to walk down a spiral to the ticketing booth and the exhibit entrance. We circled down as the years mounted on the wall decrease every 5 years, from present age to 1960 to 1950 to 1945, the fateful year.
A quick history lesson from Wikipedia, "During World War II, the United States detonated two nuclear weapons over the Japanese cities of Hiroshima and Nagasaki on August 6 and 9, 1945, respectively. This was after obtaining the consent of the United Kingdom, as required by the Quebec Agreement. The two bombings killed at least 129,000 people, most of whom were civilians. They remain the only use of nuclear weapons in the history of warfare."
Stepping In
The fateful time, 11:02 am. Students were in school, adults at work, and streets full of life. Light flashed and heat engulfed the city. It was as if the sun had fallen from the sky. In a blink, the city fell into darkness. Mr Hirotami Yamada, a survivor recalled the scene. When light returned, the city and people were charred. And for those who seemed to escape unscathed, they were not spared – most died or suffered from the radioactive effects thereafter. In a moment, lives were forever changed.
What to Expect in the Museum
As we saw photos of how Nagasaki was before the atomic bombing, the next step brought us into a recreated scene of the disaster. Real remnants from the destruction were displayed. Charred cooking utensils, a school girl's lunch box and melted glass bottles stuck together at the top. The reality of innocent lives taken away in such catastrophic disaster sank in.
It was a sombre place. As we journeyed on, we read about events leading up to the dropping of the atomic bomb. Real life accounts of eye witnesses and survivors were especially piercing to the heart. We could also read poignant poems, songs and letters that were penned to commemorate the tragic event.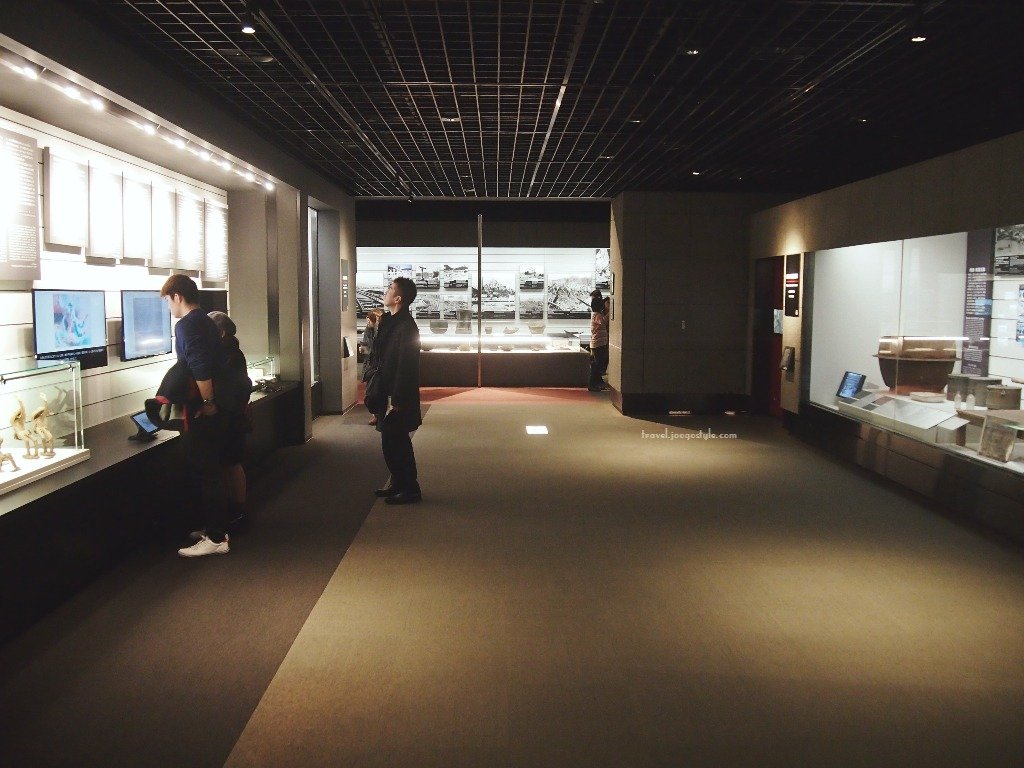 The earth still continues to spin. Life still has to go on. We moved on to read about Nagasaki's road to recovery, with the reconstruction of the city to present day. On the other hand, history of nuclear weapons development were rehashed, in hope that it will not continue and the world be peaceful and free of nuclear weapons.
I had wanted to absorb all the information and walk all the grounds. However with a baby, I could only browse through and peeked a little into the past. I guess this is better than not even grasping the tip of the iceberg.
Useful Information
Address: 7-8, Hirano-machi, Nagasaki City, Nagasaki prefecture, 〒852-8117
Access:

5 minutes' walk from Hamaguchi-machi Streetcar stop, Denki no. 1 (One day pass 500 yen; Single trip 120 yen)
Parking available

Opening Hours:

8:30am – 5:30pm (6:30pm, May to August; 8:00pm, 7-9 August)
Closed on 29-31 December

Fees: 200 yen
Website: nagasakipeace.jp/english/abm.html
Useful References:
---
Nagasaki Peace Park
---
Monuments
The walk from the atomic bomb museum to Nagasaki Peace Park ("Peace Park") is about 10 minutes. The route is not so straightforward, so you might want to ask the museum staff for directions or have them suggest a route to explore the park. The peace park covers a large area. I didn't even know we missed out a few monuments until I started this post.

For example, we missed the big Peace Statue situated near to the museum. Every year on 9th of August, a memorial service is held in front of this statue. It is a green man with "raised right hand pointing to the sky depicts the threat of the atomic bomb, and the left hand stretching horizontally symbolises eternal world peace, while the slightly closed eyes express a prayer asking that the souls of the victims may find rest." (quoted from visit-nagasaki.com).
Moreover, there's an interesting display along the river. A window is cut across the river bank to show the actual rubble from the blast. We didn't see it because I think that part of the river was under construction while we were there.
At the park, you can find many symbols of Peace monuments donated from around the world. As we journeyed from the museum to ground zero, across a long stretch of red bricks flooring, we noticed a heartrending monument: a mother is carrying her dead baby, and the date and time of the tragic event was etched on the base – 1945.8.9, 11:02AM.
Ground Zero
The Peace Park was built at the heart of the atomic bomb explosion. A cenotaph is built upon the center of the atomic bomb's destructive force. Ground Zero. It is at the center of concentric circles, which are likely made to illustrate the radiating effects of the impact.
It was said that grass and trees would not grow on this spot for 75 years after the explosion. However, this park is currently vibrant with plant life.
Near Ground Zero: Urakami Cathedral
Beside Ground Zero, structural remains of Urakami Cathedral stood in place. It is the actual remnants from the explosion. Urakami Cathedral was the grandest church in East Asia at that time, and now, only a beam remains.
Useful Information
Address: Matsuyama-machi, Nagasak city, Nagasaki prefecture, 〒852-8118
Access:

4 minutes' walk from Matsuyamamachi Streetcar stop, Denki no. 1 (One day pass 500 yen; Single trip 120 yen).
15 minutes' ride from JR Nagasaki station mae Streetcar stop)
Parking Available
---
Food: Horaiken Bekkan (Near Museum)
---
After a heavy-hearted tour, let's lift our spirit with some food! It's dinner time for us by the time we were done.
Horaiken Bekkan, which offers Chinese cuisine, is near to Nagasaki Atomic Bomb Museum and Peace Park. A plausible option if you are looking to settle your lunch nearby and continue exploring the area. A good option if you want to try Nagasaki Champon. It's like a Japanese udon cooked in Chinese style.
The Champon starts from 900 yen (S$11). Note that there might be a queue before Horaiken opens. Sadly, we had to skip this restaurant. We were rushing to catch the shuttle bus to Mt Inasa and we could not find the restaurant.
When we finally found the restaurant on our way to the tram/streetcar station, a steep flight of stairs faced us. With a baby, a stroller and tonnes of tiredness, we decided it's too tiring and time consuming to conquer the stairs. Thus we gave Horaiken a miss. But I still managed to detour and try Champon on our drive to Kumamoto!
Useful Information
Website: horaiken-bekkan.jp
Address: 5-23 Hiranomachi, Nagasaki 852-8117, Nagasaki Prefecture
Tel: +81 95-846-2277
Operating Hours:

Mon-Sun, 11:00AM-3:30PM (LO 3pm) / 5:00PM – 9:00PM (LO 8:30pm)
Closed: 2nd and 4th Tuesday of every month (excluding 1, 3, 8, December)
To travel from Fukuoka Airport to Nagasaki, check out our "Airport Transfer Guide".
---
---