Pack for Baby Travel (Winter)
I supposed you are planning a trip with your baby and that's why you are here. Is it going to be the first time you are travelling with an infant? Then, read about my first travel experience with baby Evangeline during winter. If you are still undeterred, read on! :) I will highlight the important things to pack for baby travel, and generally how you can dress baby for winter.
This post is based on our 9 days of winter holiday, where we had 7 full days in Japan. The temperatures were hovering from 0 to 15 degrees. Baby Evangeline was only around 8 months old then. You can take a look at our itinerary.
---
Luggage Overview:
Pack for Baby Travel
---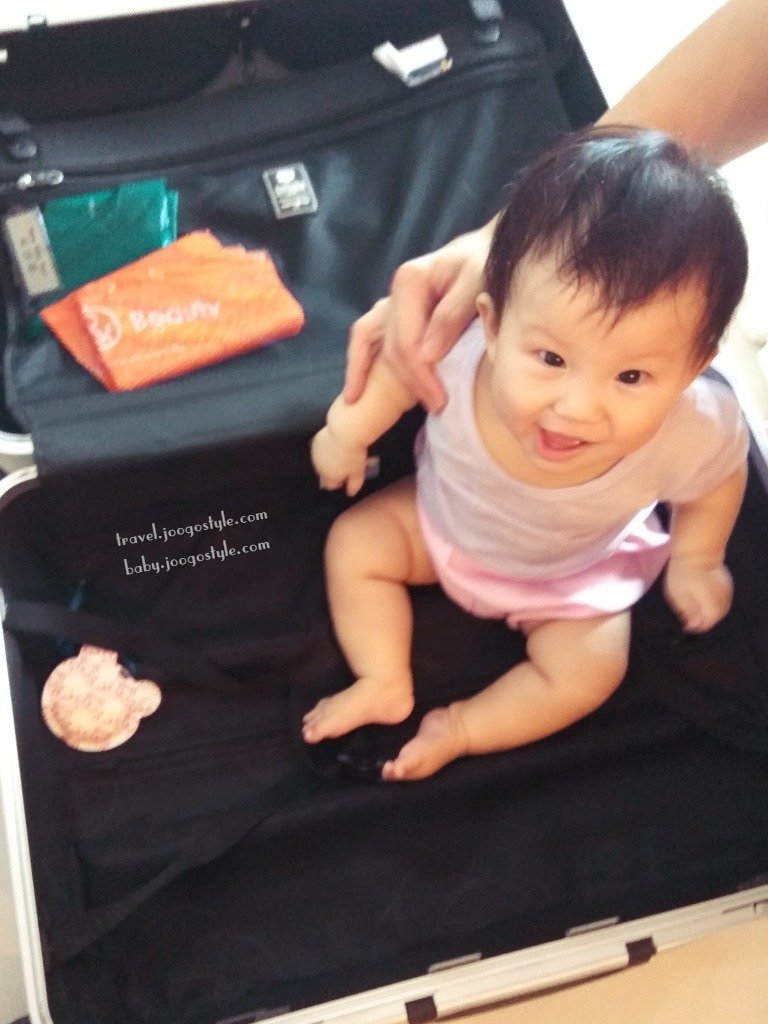 Checked in luggage
Hubby and I shared a 28″ luggage, while Evangeline has her own 24″ luggage.
Hand luggage
Other than our luggage, we brought our own hand carry bags – a small sling bag for hubby, a big shoulder bag for myself and a diaper bag for Evangeline. On our return, we used an expandable bag to bring back goodies from Japan. An expandable bag is useful to give that extra luggage space for your shopping buys.
Other baby gear
Other baby gear you might consider bringing are stroller and baby carrier. Bring lightweight stroller, preferably travel stroller like GB pockit. You can fold until it's small enough to fit into the cabin, great way to reduce bulky and heavy luggage. If your travel destination is not stroller friendly, especially crowded cities like Hong Kong, bring along a baby carrier! Good to alternate it with the stroller.
Find out from your airline if they limit the number of free check-in for baby gear. Some limit, some don't. This will give you an idea of how much the extra baggage fee will be. Other baby gear include car seat and baby cot.
---
Diaper Bag to Carry On-Board
---
To carry on-board, pack your usual diaper bag, and definitely with more diapers! Count the diapers you will need from the moment you leave your house till you reach your hotel, plus extras in case of poo-mania. Another good to have is plastic bags to store soiled diapers in case you can't find any bin.
If you don't usually pack in hand sanitizer, you might want to. It comes in handy when you can't find a room with a wash basin. Use it to clean your hands before and after diaper change. Viruses are easily passed to another through poo.
You might also want to pack in 1-2 extra sets of romper and bib to change out stained clothes, depending on the length of your journey. Extra shirt for the mum in case of milk spills, puke, or whatever that may come.
Bring baby jacket, fleece romper and/or a blanket for extra warmth. It can get quite cold on the plane. Snacks is something I regretted not packing in. Food to keep the babies less hungry and to distract them during crying fits. You will also need their toys, teether, pacifier and/or blankie as other means of entertainment or distraction.
---
Infant Luggage
---
Diaper Set
Other than the carry on diaper bag, we prepared another diaper set to pack into the luggage for convenience's sake. Diaper set that includes non-travel size diaper cream, wet wipes, diapers, etc.
We didn't bring as many diapers and wet wipes as needed because we could get our usual brand in Japan, and cheaper! If you can't find your usual brand at destination, don't under pack and buy new diaper brand. You wouldn't know how the baby's skin is going to react to it.
Toiletries
Toiletries set that includes body wash, oral wipes, towels, washcloths and others needed during bath time. Then there's also the dry toiletries set you used after bath, things like lotion and sunblock.
Clothes
With so many tiny pieces to bring along to layer the baby, packing can be quite hair pulling. You have to pack more for winter too – the thermal innerwear, woolen hat, gloves and scarves.
One useful tip I picked up online is to pack baby's clothes by day. Prepare small ziplock bags and put in baby's clothing set by day and label, 'Day 1', 'Day 2', etc.
I didn't strictly stick to what I've planned. Sometimes when she didn't sweat or dirty herself, I made her re-wear certain clothes, e.g. the leggings. I would still pack in this way in future because it made sure I didn't bring fewer pieces than needed. It's better to overpack than underpack for baby.
Don't forget to pack in the pyjamas!
Feeding Essentials
Milk Feed
If your baby is feeding on bottle, remember to bring enough milk bottles. You may want to bring sterilising tablets instead of a steam steriliser. Or if you have a kitchen at destination, use microwave steriliser bags or the boil method.
If baby is on formula, remember to bring a small stash of milk powder. Or a smaller stash if you are going to buy more at your destination. Make sure your usual formula brand is readily available and know where's the nearest supermarket that sells it.
If you are nursing, bring your nursing cover to latch on the go.
If you are expressing milk, make sure you bring all the necessary parts of the breast pump. Not forgetting milk storage bags, ice packs, ice box or cooler bag, and other storage necessities. Wrapping aluminium foil around your milk bags supposedly will help to retain the coldness too.
If you're exclusively expressing milk, put your frozen stash of milk packs in a cooler bag or ice box. Be sure to put in enough ice packs to keep your milk cold for the whole journey, from home to accommodation. To ensure hygiene, put your ice box or bag in another bag. For storage wise, check that there's a freezer in your room when booking. If not, ask the hotel or hosts if they can keep them in their restaurant's kitchen or own premises, and preferably not with raw food.
If you are feeding formula or pumping milk, check that the kettle and fridge at accommodation are working when you arrive. You don't want to wait until the baby is crying for milk to find people to fix them.

Solid Feed
There are fewer things to pack for an infant who hasn't yet started on solids. Usually that means younger than 6 months old. If your baby is already on solids, staying in an accommodation with well-equipped kitchen means you can bring fewer items such as knife or peeler. It's always a boon to stay near a supermarket!
For cooking, you can bring electric lunchbox to cook in hotel. You might also need knife, baby scissors or peeler to prep your food. Good to have baby dishwashing liquid and sponge for cleaning up.
For eating, you need food storage containers or lunchbox to bring the cooked food out, utensils, disposable bibs (Evangeline tore it easily) and baby hand wipes or sanitiser to clean the baby's hands.
For back up, bring along snacks, baby cereal, and food pouches. This is in case you don't have time to buy ingredients or cook the food, or if you can't find any good ingredients to buy at the supermarket.
Again, check that the fridge is working for you to store the fresh produce buys.
Bedding
Most hotels provide baby cot or playpen for baby to sleep in, albeit a small fee. Hence, you need only to bring your crib sheet. But if you are booking an Airbnb, you might have to bring your own cot/playpen. That would also mean one big baby gear to bring along and around.
Other bedding items include blankets or swaddles for night sleep, swaddle for shading stroller, or clothes pegs to pin blanket/sheets to bassinet, or a big cloth to the cot, to block out light.
Medicine
Most of the time, it's not feasible to visit the doctor when you are on holiday. So bring along baby thermometer and medicine to self medicate first, such paracetamol, zyrtec, ibuprofen, and probiotics.
Is there anything I missed out? Please tell me in the comments section below.
---
---