From Perth to Margaret River | Mandurah and Busselton
My favourite part of our Perth holiday was the journey from Perth to Margaret River and Margaret River itself.
Sea waves clash furiously,
trees stand tall,
people sip wine,
appreciate art,
spend money on wineries.
---
From Perth to Margaret River
---
On our way to Margaret River, which is about 4 hours drive from Perth, we stopped over at Mandurah and Busselton Jetty.
Another popular stopover we missed is Rockingham, 25 minutes' drive south of Perth. The place is famous for its Shoalwater Islands Marine Park and Penguin Island. You can also drive along the pristine Rockingham Beach or stop over for coffee or quick lunch at one of its waterfront cafes. For families, the children's playground and shallow waters makes it a great place for children to play and swim.

Mandurah
Manudrah's Dolphin Cruise
We wanted to see the dolphins and it's a possibility at Mandurah! Hence,
we grabbed a Groupon Australia's deal of dolphin cruise the moment we saw it! It was A$25 for 2 pax and entitled us to an hour of Dolphin & Scenic Canal Cruise by Mandurah Cruises. The usual price was at A$28 per adult.
Sadly, there was no dolphin in sight! The cruise hovered around the dolphins hotspot for less than five minutes and left. It didn't wait long enough or longer for dolphins to appear, and so didn't think the cruise would be worth its full price.
Nevertheless, we didn't go away empty handed. We rode past a cluster of birds that gave off a pungent smell. The smell reached us even though we were quite a distance away.
Then, there's the pied piper on land who played his instrument to whoever passing through.
The scenic cruise turned out to be a tour of beautiful and expensive waterfront houses, along with the owners' yachts, speedboats, etc. Knowing we are from Singapore, the guide told us that many of these houses are owned by Singaporeans, and they drove up the housing prices here.
Mandurah's Food and Atmosphere
We ate fish and chips for lunch and it is worth a mention here. The busy eatery, with the likes of Ikea canteen, was super crowded with people. The food, relatively cheap, was wrapped with paper and didn't score high on food presentation. Surprisingly, it was the best fish and chips I have ever tasted! Or perhaps it was my hunger that alleviate my star ratings.
I love the atmosphere of Mandurah and would love to stay longer if we had more time. For more information about Mandurah, visit www.visitmandurah.com. You can get to Mandurah by car or Transperth train.
Busselton Jetty
Busselton Jetty is 1.8 kilometres out to sea, the second longest in the world. The walk takes approximately 25 minutes each way. Take a long walk, alongside fellow tourists, and strike up a conversation with a local who is fishing.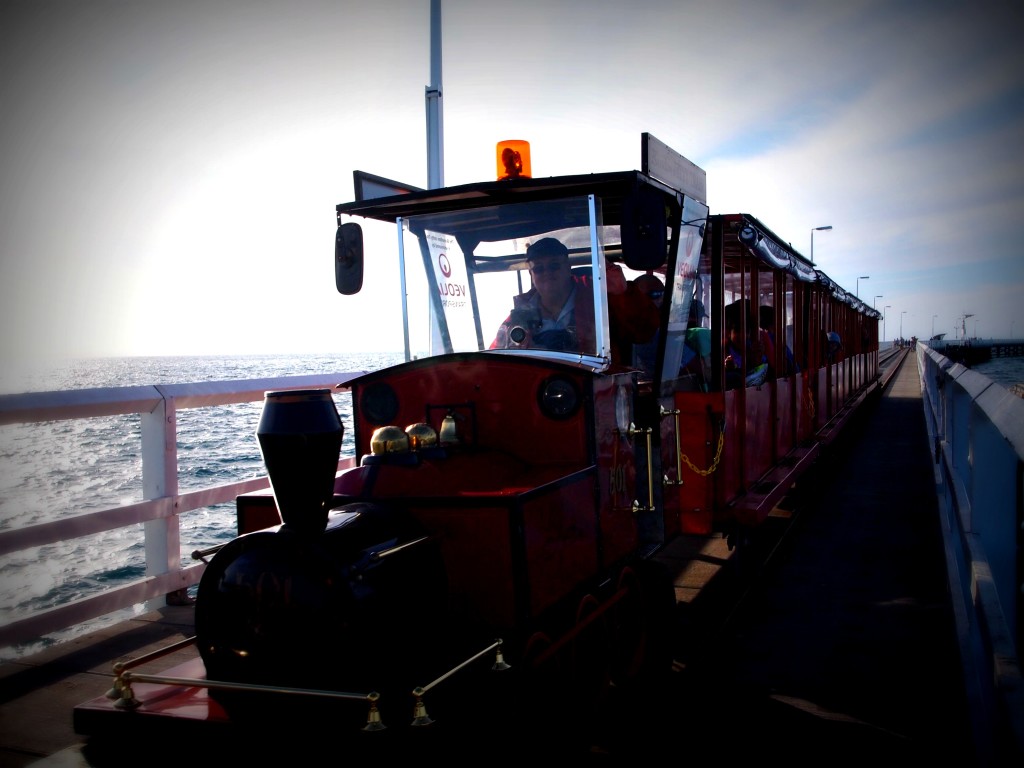 If you don't like walking, you can pay for a train ride to bring you to the end of the jetty, where you will come to an Underwater Observatory. Descend 8 metres below water's surface and discover 300 different marine species below the jetty.
Anyway, we chose to take a scenic stroll instead of taking the train, enjoying the birds, breeze and good weather.
Visitor Information
Free Admission to Busselton Jetty
Jetty open 24 hours, daily.
Prices (updated as of Apr 2019):

Jetty Train Ride: A$13.50 (Adult), A$8.50 (Child, 3-17 YO)

Underwater Observatory (Inclusive of Jetty Train Ride): A$34 (Adult), A$20 (Child), A$99 Family Pass (2 Adults + 2 Children), A$9 (Extra child to Family Pass)

Hours for Interpretive Centre and Heritage Museum, Underwater Observatory and Jetty Train can be found at this link: www.busseltonjetty.com.au/general-info/opening-hours
---
Margaret River
---
Margaret River (www.margaretriver.com) is well known for its award winning wines, fine food, pristine beaches and breathtaking scenery. The region also has Western Australia's most extraordinary attractions.
Driving from Perth to Margaret River takes only 3.5 hours and is also an easy drive. Hence, it makes a perfect short getaway from the city.
Here's a quick glance of where we went in Margaret River:
Cape Leeuwin (Lighthouse),
Jewel Cave (Beautiful limestone cave, others we skipped: Lake, Mammoth, Moondyne and Nigilgi Caves),
Bonarup Karri Forest,
Prevelly (Popular surfing spot, at the mouth of Margaret River),

Wine, chocolate and nougat places, and
Margaret River Discovery Tour (includes canoeing, food tasting at wineries, trekking cape to cape trail).
On Day 1, we did a scenic drive through to Cape Leeuwin, Jewel Cave, Bonarup Karri Forest, and Prevelly.
On Day 2, we went for the Margaret River Discovery Tour, wine, chocolate and nougat places.
As for our night at Margaret River, we stayed in a chalet at Riverview Tourist Park (link to our accommodation review).
Here are a few photos of what we came across as we travel to and around Margaret River:
---
Margaret River (Day 1)
---
Cape Leeuwin
Down at Augusta, Cape Leeuwin Lighthouse is situated at the southernmost tip of Western Australia where the Southern and Indian Oceans meet. Constructed with local limestone in 1895, this lighthouse is the tallest on mainland Australia and currently still a vital lighthouse for vessels approaching this treacherous cape.
Find a spot to get close to the waters and you can even see a big stingray!
During the whale watching season (May – September), watch out for the creatures as they make their way around the cape.
We paid a general site entry fee and roamed around ourselves. However, as of 2019, it seems like you need to book a fully guided tower tour of the lighthouse, which includes a climb up the light house. Note that children under 4 years old are NOT permitted to climb the lighthouse.
Book a slot for the 30-minute tour that's available from 9:00am to 4:30pm, daily except Christmas.
Enjoy a snack or light refreshments at the Cape Leeuwin Lighthouse Cafe before you leave!
Visitor Information
Hours: Monday – Sunday: 9:00am – 5:00pm
Tour: A$20 (Adult), A$14 (Child, 4-16YO), free for infants.
Call +61 8 9758 1920 or email [email protected] for more information.
Jewel Cave
At Margaret River, there are beautiful limestone caves with different characteristics for you to marvel.
Here's a brief description of the respective caves in Margaret River:
There's one more cave missing in action – the Moondyne Cave. It is currently closed until further notice. Previously, the magnificent Moondyne Cave was reopened to the public after ten years, offering visitors an intimate, exclusive caving experience. Overalls, gloves and helmets are required for the 3-hour experience by torchlight.
Visitor Information
Information for visiting caves with young children.
Purchase tickets to cave entry or tour on website or on-site:

Single Cave Entry: A$22 (Adult), A$12.50 (Child, 4-16YO), A$58.00 (Family Pass) and A$20 (Senior).
Two Cave Pass: A$41 (Adult)
Three Cave Pass: A$52 (Adult)
Four Cave Pass: A$67.50 (Adult)

Hours

Entry Hours to Mammoth Cave: 9:30am – 4:00pm
Lake and Nigilgi Cave tours: 9:30am – 4:00pm
Jewel Cave tours: 9:30am – 3:30pm (departs hourly)
Our Jewel Cave Experience
Due to budget, we could only go to one cave. After gathering information from various sources, Jewel cave is the pick if we really had to choose one. Lake cave is more for the camera enthusiast, while Mammoth cave is for those who wants to exercise!
My photos don't do justice to the awesome sights of Jewel cave. The low lighting of the cave made it hard for my camera to capture its spectacular essence. We came up close to beautiful formations under earth.
We had to join the fully guided tour to enter the cave, which is good! We got to hear the interesting story of how the cave was found and dug. And how the 'founder's' descendants got married in the cave!
Bonarup Karri Forest
Karri trees, some over 60m in height, towered over us as sunlight stream past the gaps between trees. You will reach this forest with an easy 25 minute drive from south of Margaret River, along Caves Road.
Driving through stunning forest, it loops back to Caves Road. The hard limestone base of Boranup Drive makes it easy for two-wheel drive vehicles to navigate.
On the edge of the Boranup Forest, enter into the Boranup Forest Maze and be among the maze grown from native and exotic shrubs. Admission is $5 per adult and $2 per child.
Along the forest drive, there's the Boranup Lookout where we enjoyed the spectacular forest from a high vantage point. We did alight from the car to do some nature walks and climbs. A beautiful place to enjoy the greenery and, for bird enthusiasts, to spot various birds species.
Prevelly
Prevelly Park is a surfers' paradise, located at the mouth of Margaret River. I didn't think much about this place, but once we got near the waves, it was definitely a refreshing experience. I shall let the photos speak out my love for the crashing waves.
Margaret River (Day 2)
On our second day at Margaret River, we went for the Margaret River Discovery Tour, which includes canoeing, food tasting at wineries, and trekking cape to cape trail. After the tour, we hopped on to other places selling wine, chocolate and nougat.
For more details, head on to "Things to Do in Margaret River".
---
---