Interesting Things to do in Penang (George Town)
A guide to the best attractions and things to do in Penang, George Town
Looking for things to do in Penang? With a well-preserved cultural and historical heritage, George Town, Penang's capital city, was listed as a World Heritage Site by UNESCO. Get lost in the maze of narrow lanes as you admire the town's eclectic mix of architecture–colonial shophouses, mosques, shrines, temples and shopping complexes. Famous for its wall arts, the town's burgeoning artistic vibes can also be seen in its shops, modern cafes and bars.
Penang is also famous for it's delicious cuisine, to name one, the Penang Laksa. And here at George Town, you can get a lot of good food, with people willing to wait in snaking long lines. (Stay tune for the food guide.)
---
Monuments
---
Queen Victoria Memorial Clock Tower
Queen Victoria Memorial Clock Tower is near to the pier where we alighted from the Mariner of the Seas for our one day tour in Penang. This 60ft-high tower was commissioned in 1897 by a local millionaire, Cheah Chen Eok, to commemorate Queen Victoria's Diamond Jubilee. Each foot represents a year of the Queen's 60-year reign.
St Georges Church
St Georges Church Penang is the oldest Anglican Church in South East Asia, built between 1817 and 1818. During World War II, the church was badly damaged by one of the many Japanese air raids and then looted of nearly all its contents. The only original artefacts left are the Bishop's Chair and Baptism Font.
Clan Temples
Penang Clan Temples are built by the various clan associations during the mid 19th to early 20th century, for the purpose of worshiping deities and revering ancestors. Clan associations are set up to assist fellowmen to settle into the new environment and find employment in Penang.
Cheah Kongsi is the first of Penang's five great Hokkien clan houses (Khoo, Tan, Lim, Cheah and Yeoh). It now doubles as a museum, exhibiting the temple's 183-year history, several pieces of original furniture and artefacts. Completed during 1870s.
Leong San Tong Khoo Kongsi (RM5) is the most famous clan house in Penang and impressive in SE Asia. It was built by the Khoo, the wealthiest of the Hokkien clans. The clan house shows the opulence, prosperity and success of the Khoo clan. A short distance away is the quieter Boon San Tong Khoo Kongsi, a subset of the main Khoo clan.
---
Museums
---
 Pinang Peranakan Museum
The Peranakan Chinese (Babas and Nyonyas) was a prominent community in the Straits Settlements (Penang, Malacca and Singapore). Adopting ways of the local Malays and British, the Peranakan Chinese developed a unique customs, cuisine and language.
Pinang Peranakan Museum is a two storey mansion, typical for a rich Baba a century ago, recreated to offer a glimpse of their opulent lifestyle, customs and traditions. The beautifully preserved architecture is made of Chinese carved-wood panels, English floor tiles and Scottish ironworks. There are over 1,000 pieces of antiques and collectibles displayed here.
On one side of the mansion is an ancestral temple, and on the other side, a mock up kitchen. There are also air-conditioned jewellery galleries for you to gawk at the bling.
If you only have time for one attraction in Penang, I would recommend this. It's the #1 of 87 things to do in George Town on Tripadvisor anyway. Tour the replica of a luxurious house for old Peranakan families. Details were put into the whole museum, so much so that the famous Channel 8 show, Little Nonya, by Jeanette Aw was also filmed here.
There are guided tours in English or Mandarin. If you are in luck, you will be guided by a true Peranakan, the old lady seen in the picture below. She only speaks English.
www.pinangperanakanmansion.com.my
Daily (incl Public Holidays), 9:30 am to 5:00 pm
Adult: RM20; Child: RM10
Penang State Museum and Art Gallery

This museum houses a pleathora of Penang historic artefacts. However, after a tour at the Peranakan museum, the information about the Peranakan in this museum seemed lacking. But you get to learn about Penang's history and other main cultures such as the Malays over here. There were quite a bit of information and exhibits for you to read and explore. The air-conditioned first level was a cool respite in the sweltering heat. Do note that the whole place is a bit run down.
www.penangmuseum.gov.my
Daily 9:00am to 5:00pm, execpt Friday and Public Holiday
Admission: RM1
---
Local Attractions
---
Markets
There are various markets to look around — wet market, shops selling clothes, etc. Chowrasta Market is a place to go if you want to get local titbits such as preserved nutmeg and Tau Sar Piah 豆沙饼.
The Clan Jetties / Chew Jetty
Located along the Weld Quay are Penang's historical clan jetties, home to families of the various clans. Each of these century old jetty is named after a Chinese clan. There were originally seven clan jetties, with one destroyed by fire. The Chew Jetty, straight down from Lebuh Chulia, is the most welcoming to tourist and has the most stilt-houses and longest walkway.
Street Art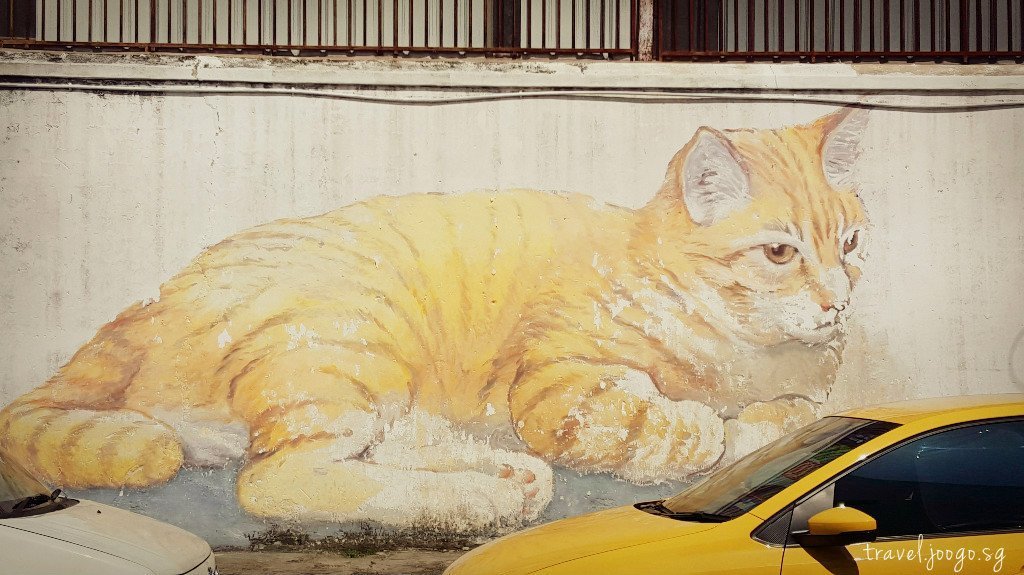 I have heard a lot about Penang's wall art. So it's exciting to spot them all around the town! In 2012, Ernest Zacharevic was commissioned to paint murals, including the famous 'Kids on bicycle'. Since then other artists have contributed. You can look at the map below to guide you in finding the different murals.
Other than murals, we spotted another form of art–wall sculptures. Started off as a competition by Penang State Government, 52 unique and humorous illustrations in the form of iron rod sculptures were installed on the city's building walls. They pop up at random buildings–sometimes they are right in your face, other times, you have to look up the building to spot one.
Be sure to bookmark this: Comprehensive Guide to Mariner of the Seas (Royal Caribbean).
What other attractions are you visiting in Penang? Share with us your suggestions below or on our Facebook Page or Instagram. Travelled in December 2015  | Trip is fully paid by us and in no way sponsored.
---
---