Review: Sense Hotel (Bali, Seminyak)
▲ Accommodation Review
Bali Itinerary Overview (2015). p.s. Read about our post of how to get a Taxi at Denpasar airport without being cheated – learn from our mistake!
Price? S$181.72 / US$135 / IDR1.7 mil per room for 3D2N (via Expedia)
Accommodation Type? Deluxe Room (Complimentary upgrade to Deluxe Room), including breakfast.
When? 2 nights in  January 2015
Website: www.sensehotelbali.com
---
 Our Experience
---
░░░ In General  ░░░
✔ Staff's Hospitality: We were warmly welcomed by the staff, and got a free welcome drink as well. They were very helpful in giving us suggestions on dining locations as well as where to catch the best sunset. We arrived early, but our room was not ready for early check in. So they suggested we go for lunch first while waiting for them to clean up the room. But we wanted to change out from our airport fashion into more comfortable clothing (the heat!). So one staff suggested the spa room (which was unoccupied at that time). He prepped the room with lights and air-conditioner for us to change. The spa room even has a toilet for us to freshen up. Very good first impression! 
✔ Location:  In the centre of action, near to Seminyak Square, Potato Head, Beach, etc. Sense hotel is the red dot in the map below.
✔ Van Shuttle Service: Their shuttle service runs a specific route within about 2 kilometres radius of the hotel. If I am not wrong, it's the route from Sarong to Seminyak Square. You get a ride from the hotel, but you have to find your own way back. You can simply request for a shuttle service at the reception and wait a few minutes for the staff to get the car to chauffeur you. No shuttle bus timetable to speak of. Almost private – we only shared the shuttle ride once with another lady.
✘ Swimming Pool: A really small lap pool, more like a water feature than a swimming pool? Only good for soaking or a short swim. Not recommended if you are looking for a workout. However, they have nice tanning beds beside the pool if you want to get some sun. But be prepared to get stares, because the pool, front desk, dining area and rooms balconies are all closely connected and at a close proximity. See how the pool looks like below. Sorry I didn't capture the hunk in the pool clearly enough! :P
Good to know: The hotel has full spa services and tours provided. Enquire at the front desk. Also, the hotel does provide airport transfer but at a price of US$20/car/way. It's probably more affordable to grab a taxi from the airport. Do read this for more information on getting a taxi from the Airport, and not be cheated!
░░░ ROOM ░░░
✔ Free Room Upgrade: The reception told us that since it's the low season for them, they have upgraded us from Superior to Deluxe Room. Who doesn't love a free upgrade? :P
✔ Complimentary Set Up: We stated in our booking that we were on our honeymoon trip and the hotel kindly prepared a honeymoon set up of a flower and swan arrangement on the bed when we arrived.  Good for photo-taking. Being the practical us, we would actually have appreciated a bottle of wine more than this set up. But still, a nice gesture and effort from the team.
✔ Clean and wifi-equipped room
✔ Good turn down service: I didn't know what this service was before my stay at Sense. But I kept reading about the good reviews of Sense hotel with regards to this service. Basically, according to Wiki, turndown service refers to the practice of staff entering a guest's room in the evening and "turning down" the bed linen of the bed in the room, preparing the bed for use. Noticeably, for our room at Sense, the curtains were drawn down, and a sheet of paper with different information was given to us every evening. The sheet provided us with information of the weather next day, things to do in Bali, and special promotion for their guest.
✘ Balcony Non- Privacy: Our room was on the second level and it overlooks the pool and the dining area. We didn't utilise our balcony at all, because it has no privacy at all. We weren't comfortable with people looking at us from the tanning beds, dining tables and even the reception area!
Bathroom: Average: A big shower area with the trendy rain shower for you to use.
░░░ FOOD ░░░
Breakfast: Average: Our room came with complimentary buffet breakfast. The breakfast was average, nothing spectacular. However we were given a nice surprise on the first morning we had our breakfast. TL was chatting with one of the managers while waiting for his toast and casually mentioned that we were on our honeymoon. The next thing we know, one of the staff came over to our table and told us not to leave, and that they've something special for us. They then brought out a chocolate cake specially prepared for us. A really nice touch from the hotel (which is one of their biggest selling points really).
✔ Nice dining area: Relaxing poolside dining
Good to know – Dinner specials: For certain nights, they have very affordable dinner specials. When we were there, it was Friday seafood dinner specials with free live music. But with so many good restaurants out there to try, it was not surprising that the band had to play to an empty restaurant for quite some time before a couple went in. We observed while waiting for our shuttle at the front desk. :P
---
Recommended?
---
The Balinese things about this hotel is its hospitality and a part of its breakfast buffet which serves Balinese food. Good average hotel. Affordable rate at a central location, considering the hotels and villas in Seminyak can get quite expensive.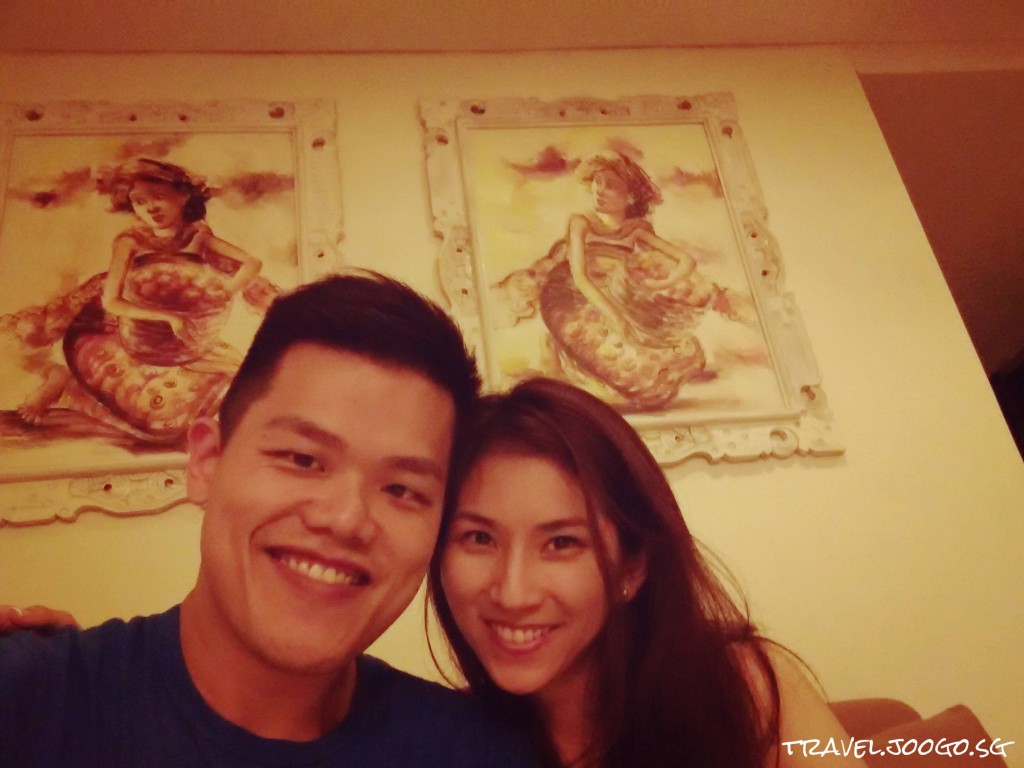 ---
Travels During January 2015
Disclaimer: All data and information provided on this site is for informational purposes only. 
Travel.joogo.sg and/or the author shall not be held responsible for any injury, loss, expense or damage
of any kind whatsoever suffered or incurred by any person who accesses or uses the information and 
external websites stated above. Full disclaimer here.
---
---